01-09-2020 | Uitgave 3/2020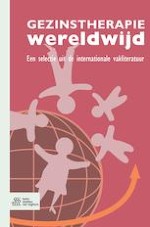 Het Vuurtorenprogramma: kindermishandeling aanpakken door het mentaliserend vermogen van ouders te versterken
Tijdschrift:
Auteurs:

Gerry Byrne, Michelle Sleed, Nick Midgley, Pasco Fearon, Clare Mein, Anthony Bateman, Peter Fonagy
Belangrijke opmerkingen
This material originally appeared in English as 'Lighthouse Parenting Programme: description and pilot evaluation of mentalization-base treatment to address child maltreatment' Clinical Child Psychology and Psychiatry 2019, Vol. 24(4) 680–693. Copyright 2019 Sage Publications. Vertaling: Klaske Kamstra, Groningen.
Samenvatting
In dit artikel wordt een innovatieve, op het mentaliserend vermogen van ouders gerichte interventie gepresenteerd voor gezinnen waarin het risico op kindermishandeling aanwezig is. Doel van dit zogenoemde
Lighthouse MBT Parenting Programme
is het voorkomen van kindermishandeling, door de sensitiviteit van ouders als verzorgers te bevorderen. Het programma is bedoeld om het vermogen van ouders om zich nieuwsgierig te tonen voor de innerlijke wereld van hun kind te versterken, om hen te helpen om hun kinderen goed te 'zien' (te begrijpen), om misverstanden in de relatie met hun kind te verklaren, en om ouders te helpen om op die momenten van misverstanden schadelijke reacties te onderdrukken en de relatie in geval van schade te herstellen. Het programma is een aangepaste vorm van MBT (
mentalization-based treatment
) voor borderline en antisociale persoonlijkheidsstoornissen, met speciale aandacht voor hechting en de ontwikkeling van het kind. De kracht van het programma zit hem in het betrekken van moeilijk bereikbare ouders die doorgaans geen gebruikmaken van programma's die gericht zijn op ouderschap. Uit de bevindingen van de pilotevaluatie komt naar voren dat het programma zelfvertrouwen en sensitiviteit in het ouderschap kan verbeteren en dat ouders het programma en de veranderingen die het in hen teweeg heeft gebracht waardevol vonden.