08-09-2016 | Artikelen | Uitgave 3/2016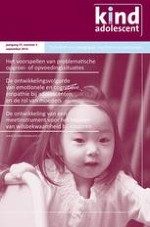 Het voorspellen van problematische opgroei- of opvoedingssituaties
Onderzoek naar de predictieve validiteit van het LIRIK en de ontwikkeling van een Actuarieel Risicotaxatie Instrument voor Jeugdbescherming (ARIJ)
Tijdschrift:
Auteurs:

Dr. Claudia van der Put, Drs. Mark Assink, Prof. dr. Geert Jan M. Stams
Belangrijke opmerkingen
Dit artikel is een bewerking van:
Put, C. E. van der, Assink, M., & Stams, G. J. J. M (2016). Predicting relapse of problematic child-rearing situations.
Children and Youth Services Review
61
, 288–295.
Samenvatting
Het doel van deze studie was te onderzoeken of terugkeer naar de jeugdbescherming beter voorspeld wordt door het Licht Instrument Risicotaxatie Kindveiligheid (LIRIK) of door een nieuw te ontwikkelen actuarieel instrument. De steekproef bestond uit 3963 kinderen tussen 0 en 18 jaar (
M
leeftijd
= 9,1 jaar,
SD
= 5,33) en hun ouder(s) die in een hulpverleningstraject bij Jeugdbescherming Regio Amsterdam (JBRA) zaten vanwege een problematische opgroei- of opvoedingssituatie. Terugkeer was gedefinieerd als het opnieuw starten van een jeugdbeschermingstraject door JBRA. Het Actuarieel Risicotaxatie Instrument voor Jeugdbescherming (ARIJ) werd ontwikkeld middels een CHAID-analyse. Een voorspelling op basis van het LIRIK bleek niet significant beter dan toeval (AUC = .53). De predictieve validiteit van het ARIJ was matig (AUC = .63), maar significant beter dan die van het LIRIK. Veel praktijkinstellingen werken inmiddels met het ARIJ en daarom is het belangrijk te onderzoeken hoe de predictieve validiteit van het ARIJ verder kan worden verbeterd.