01-03-2013 | Artikelen | Uitgave 1/2013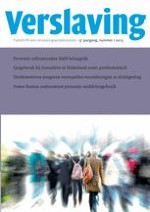 Het motivationele model van alcoholgebruik
Voorspellen drinkmotieven veranderingen in het drinkgedrag van Nederlandse jongeren?
Tijdschrift:
Auteurs:

Karen Schelleman-Offermans, Ronald A. Knibbe, Emanuel Kuntsche
Belangrijke opmerkingen
is postdoctoraal onderzoeker
is hoogleraar scoiale epidemiologie van alcohol- en druggebruik
is onderzoeker
Dit artikel is gebaseerd op Schelleman-Offermans, K., Kuntsche, E. & Knibbe, R.A. (2011). Associations between drinking motives and changes in adolescents' alcohol consumption: a full cross-lagged study.
Addiction
, 106, 1270-1278.
Motieven voor het drinken van alcohol zijn de redenen voor de uiteindelijke beslissing die iemand neemt om te gaan drinken en kunnen intern (vanuit de persoon zelf) of extern (door omgevingsfactoren) geïnitieerd worden. In deze studie wordt onderzocht welke motieven veranderingen in het drinkgedrag van Nederlandse jongeren voorspellen (H1) en of omgekeerde causaliteit, waarbij eerder drinkgedrag van jongeren toekomstige drinkmotieven voorspelt, kan worden uitgesloten (H2). In totaal hebben 454 drinkende jongeren van 13-16 jaar tweemaal een vragenlijst ingevuld (in november 2008 en november 2009). Hierin werd de Drinking Motives Questionnaire Revised afgenomen, er werd gevraagd naar hun totale wekelijkse consumptie en hoe vaak zij 6+ glazen gedronken hadden in het laatste half jaar. De resultaten geven weer dat sociale drinkmotieven, in tegenstelling tot 'enhancement'- en 'coping'-motieven, het meest voorspellend zijn voor een toename in de totale weekconsumptie en frequentie van 6+ drinken van jongeren. Ook kon omgekeerde causaliteit worden uitgesloten. Voor preventie betekent dit dat het algemene bewustzijn dat ook het drinken om sociale redenen schadelijk is voor jongeren, verhoogd zou moeten worden in Nederland. Ouders en andere belangrijke sociale actoren zouden een actievere rol moeten spelen in het verminderen van de beschikbaarheid van alcohol voor jongeren en het monitoren van hun drinkgedrag.