01-05-2010 | Forum | Uitgave 4/2010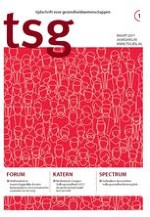 Het meten en waarderen van mantelzorg met de CarerQol
Tijdschrift:
Auteurs:

R. J.(Renske) Hoefman, N. J. A.(Job) van Exel, W. B. F.(Werner) Brouwer
Belangrijke opmerkingen
Institute for Medical Technology Assessment (iMTA)/ instituut Beleid en Management Gezondheidszorg (iBMG), Erasmus Universiteit Rotterdam
R.J. Hoefman, iBMG, Erasmus Universiteit Rotterdam, Postbus 1738, 3000 DR Rotterdam, tel. 010-4088609,
Samenvatting
Measurement and valuation of informal care using the CarerQol
Ill or disabled persons often rely, to a large extent, on the care provided by informal caregivers. Economic evaluations adopting a societal perspective should include informal care. If informal care is ignored, these evaluations may recommend a non-optimal alternative if interventions are compared in which informal caregivers play a substantial role. The CarerQol instrument is intended to measure and value carer outcomes. Different (inter)national studies use this instrument, including a large Dutch research project on elderly care (Nationaal Programma Ouderenzorg). This paper presents the results of some psychometric properties of the CarerQol. A study among a heterogeneous sample of informal caregivers shows that the feasibility of the instrument was good and the validity was encouraging. Next research will further investigate the psychometric properties of the CarerQol, in specific the validity among a new heterogeneous population of caregivers and the reliability of the instrument. In addition, future research will focus on the establishment of tariffs for the CarerQol. These tariffs enable the inclusion of the effects of informal care in economic evaluations, and therefore increase the chance accurate conclusions will be drawn from these evaluations.
Keywords: informal care, economic evaluations, CarerQol instrument