01-10-2017 | Nascholing | Uitgave 10/2017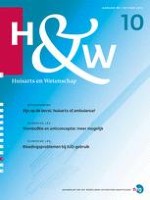 Herkennen hypoglykemieën bij oudere diabetespatiënten is lastig
Tijdschrift:
Auteurs:

Ilse Herfst-Raes, Bertien Hart
Belangrijke opmerkingen
SGE Orion, Eindhoven: I.B. Herfst-Raes, huisarts en kaderarts diabetes. Julius Centrum voor Gezondheidswetenschappen en Eerstelijns Geneeskunde, Utrecht: dr. H.E. Hart, huisarts en kaderarts diabetes
Mogelijke belangenverstrengeling: niets aangegeven.
Samenvatting
Herfst-Raes IB, Hart HE. Herkennen hypoglykemieën bij oudere diabetespatiënten is lastig. Huisarts Wet 2017;60(10):517-9.
In de afgelopen decennia is het aantal patiënten met diabetes mellitus type 2 dat ouder is dan 70 jaar toegenomen. Binnen deze groep nemen patiënten boven de 80 jaar een aparte plaats in omdat zij geregeld te maken hebben met comorbiditeit, polyfarmacie of een beperkte levensverwachting. Internationale richtlijnen hanteren voor verschillende groepen diabetespatiënten uiteenlopende cardiometabole streefwaarden. Ze houden daarbij rekening met leeftijd, comorbiditeit en het gelijktijdig gebruik van meer medicijnen. Niet alle behandelaars zijn voldoende op de hoogte van de verschillen in streefwaarden voor uiteenlopende groepen diabetespatiënten. Het blijkt in de praktijk lastig de richtlijnen bij ouderen adequaat toe te passen. Voor patiënten met recentelijk ontdekte diabetes is het van belang om de bloedglucosespiegel strak in te stellen om complicaties op de lange termijn te voorkomen. Voor oude diabetespatiënten met een beperkte levensverwachting is het echter veel belangrijker om een goede kwaliteit van leven na te streven en hypoglykemieën, hyperglykemieën en sterke schommelingen in bloedglucosewaarden zo veel mogelijk te voorkomen. Behandelaars neigen ernaar om bij ouderen een lager HbA1c na te streven dan wenselijk is. Overbehandeling verhoogt het risico op het doormaken van een hypoglykemie. Net als ernstige hypoglykemieën kunnen milde hypoglykemieën verstrekkende gevolgen hebben voor de gezondheid en kwaliteit van leven van de patiënt. Het is nog niet algemeen bekend dat oudere diabetespatiënten door veranderingen in fysiologie bij een hypoglykemie minder duidelijke symptomen hebben. Wanneer een patiënt of behandelaar een hypoglykemie niet goed herkent zal hij of zij niet adequaat optreden. Dit kan leiden tot nieuwe hypoglykemieën of langdurig verminderd functioneren.