01-10-2007 | Artikelen | Uitgave 5/2007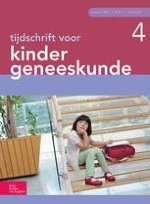 Hemofilie: van Talmoed tot gentherapie
Tijdschrift:
Auteurs:

Mw. Dr. M. Peters, H. M. van den Berg, A. de Goede-Bolder
Belangrijke opmerkingen
Mw. dr. M. Peters, kinderarts-hematoloog, afdeling Kinderhematologie, Emma Kinderziekenhuis
amc
, Amsterdam. Mw. dr. H.M. van den Berg, Van Creveld Kliniek, Wilhelmina Kinderziekenhuis,
umcu
, Utrecht. Mw. A. de Goede-Bolder, kinderarts, Erasmus
MC
/Sophia Kinderziekenhuis, Rotterdam.
Correspondentieadres
: Dr. M. Peters, afdeling Kinderhematologie, Emma Kinderziekenhuis
amc,
Postbus 22660, 1100 DD Amsterdam, tel: 020-5662727
Samenvatting
Aangeboren stollingsfactordeficiënties zijn zeldzame aandoeningen die gepaard gaan met hematomen, gewrichts- en spierbloedingen en nabloedingen na ingrepen. Hemofilie is een X-gebonden aandoening en wordt veroorzaakt door een tekort aan FVIII (hemofilie A) of FIX (hemofilie B). In 30-50% van de gevallen zijn er geen aangedane familieleden bekend. Dit kan een vertraging veroorzaken in het stellen van de diagnose waardoor bloedingen ontstaan die voorkomen hadden kunnen worden. In Nederland worden jaarlijks 10-15 kinderen met een ernstige vorm van hemofilie geboren. Behandeling bestaat uit het toedienen van de ontbrekende stollingsfactor in geval van een bloeding, trauma of preventief. Alhoewel de chronische zorg voor kinderen met aangeboren stollingsfactordeficiënties sinds 2000 in Nederland gecoördineerd wordt door dertien hemofiliebehandelcentra, zullen kinderartsen altijd alert moeten blijven op het klinische beeld van een (aangeboren) hemostasestoornis, aangezien bijna 50% een negatieve familieanamnese heeft. In de 20e eeuw is hemofilie veranderd van een aandoening met een slechte kwaliteit van leven en korte levensverwachting tot een behandelbare aandoening en staan we op de drempel van gentherapie.