27-09-2019 | Original Paper | Uitgave 2/2020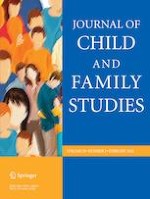 Helicopter Parenting, Autonomy Support, and Student Wellbeing in the United States and South Korea
Tijdschrift:
Auteurs:

Eunjoo Jung, Woosang Hwang, Seonghee Kim, Hyelim Sin, Zhenqiang Zhao, Yue Zhang, Jenny Hanseul Park
Belangrijke opmerkingen
Publisher's note
Springer Nature remains neutral with regard to jurisdictional claims in published maps and institutional affiliations.
Abstract
Objectives
This study sought to examine the relations between helicopter parenting and autonomy support on the wellbeing of emerging adult children across different countries from Eastern and Western cultures, using the mother-child relationship as a mediating mechanism.
Methods
The participants consisted of 215 American and 171 Korean college students who completed a self-report questionnaire on their mother's parenting style, the mother-child relationship, and their mental and physical wellbeing. Multiple group analyses were conducted using the maximum likelihood method, and a bias-corrected bootstrap procedure was utilized to test indirect effects.
Results
The findings showed an indirect association of autonomy support with student wellbeing through the mother-child relationship in both countries. The associations of autonomy support with the mother-child relationship and children's wellbeing are positive in both the United States and South Korea, and the effects were similar for students from both countries. However, our results further suggest that, controlling for autonomy support, helicopter parenting did not uniquely predict the quality of the mother-child relationship or students' wellbeing in the United States or South Korea.
Conclusions
Providing greater autonomy support than helicopter parenting to children appears to enhance the mother-child relationship within the family and children's positive wellbeing in both countries with different cultural backgrounds. This study adds to the extant literature by using the mother-child relationship as a mediating variable, expanding the investigation of helicopter parenting and autonomy support with young adults, and providing a comparative examination of these prevalent yet under-examined parenting practices between countries with Eastern and Western cultures.