16-04-2020 | Artikelen | Uitgave 2/2020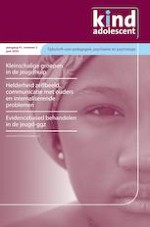 Helderheid van zelfbeeld, communicatie met ouders en internaliserende problemen in de adolescentie
Tijdschrift:
Auteurs:

Msc. Marloes P. A. van Dijk, Prof. dr. Susan Branje, Dr. Loes Keijsers, Dr. Skyler T. Hawk, Dr. William W. Hale III, Prof. dr. Wim Meeus
Belangrijke opmerkingen
Dit artikel betreft een Nederlandstalige bewerking van het volgende artikel: Dijk, M. P. A. van, Branje, S., Keijsers, L., Hawk, S. T., Hale III, W. W., & Meeus, W. (2014). Self-concept clarity across adolescence: Longitudinal associations with open communication with parents and internalizing symptoms.
Journal of Youth and Adolescence, 43
, 1861–1876.
'Lach een jongere niet uit om zijn gemaaktheid; hij probeert alleen het ene na het andere gezicht uit, om zo zijn eigen gezicht te vinden' (Logan Pearsall Smith,
1931
).
Samenvatting
In deze longitudinale studie werd verwacht dat een helderder en stabieler zelfbeeld van adolescenten wordt voorspeld door openheid binnen de communicatie met hun ouders, waarbij ouders goed naar jongeren luisteren en waarbij jongeren open kunnen zeggen wat hen bezighoudt. Daarnaast werd verwacht dat een minder helder en stabiel zelfbeeld samenhangt met een hoger niveau van internaliserende problemen, namelijk meer angst- en depressieve symptomen. Vier opeenvolgende jaren van vragenlijstonderzoek bij 323 jongeren (48,9% jongens; gemiddelde leeftijd T1 = 13,3 jaar) liet zien dat open communicatie een relatief helderder zelfbeeld voorspelde in het midden van de adolescentie. Een minder helder zelfbeeld voorspelde consistent hogere depressieniveaus en minder consistent hogere angstniveaus, en hogere angstsymptomen voorspelden een minder helder zelfbeeld. Deze studie maakt duidelijk dat angstsymptomen en open communicatie relevante factoren zijn in de ontwikkeling van een helder en stabiel zelfbeeld, en dat een minder helder zelfbeeld een hogere mate van latere depressieve en angstsymptomen in de loop van de jaren lijkt te voorspellen.