01-10-2011 | Original Article | Uitgave 5/2011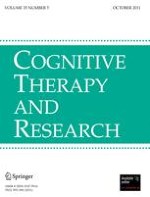 Heart Rate Variability Predicts Cognitive Reactivity to a Sad Mood Provocation
Tijdschrift:
Auteurs:

Christopher G. Beevers, Alissa J. Ellis, Ryan M. Reid
Abstract
Cognitive reactivity—the tendency to think negatively in response to a sad mood—is an important predictor of depression vulnerability. The current study examined whether heart rate variability, a physiological index of emotion regulation capacity, predicts individual differences in cognitive reactivity. Heart rate variability in the high frequency spectrum was assessed during a 5-min rest period among a sample of healthy, female adults (
N
= 67). Participants then completed an assessment of dysfunctional attitudes before and after watching a movie designed to elicit a sad mood. Lower heart rate variability was associated with greater change in dysfunctional attitudes. This relationship persisted after controlling for (a) current depressive symptoms and history of depressive disorder, and (b) other physiological indices, including resting skin conductance, respiration, and heart rate. Findings suggest that low physiological capacity to regulate emotions may contribute to depression vulnerability via increased cognitive reactivity.