25-04-2020 | Uitgave 10/2020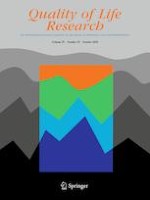 Health status and associated factors of HIV-infected patients in Kunming, China
Tijdschrift:
Auteurs:

Jing Li, Chao Wu, Chen Suo, Huijun Zhou, Tian Lu, Lin Lu, Sawitri Assanangkornchai, Virasakdi Chongsuvivatwong, Edward B. McNeil, Chunhong Qiao, Jiaping Wang, Pei Wang, Yan Li
Belangrijke opmerkingen
Electronic supplementary material
Jing Li and Chao Wu have contributed equally to the work.
Publisher's Note
Springer Nature remains neutral with regard to jurisdictional claims in published maps and institutional affiliations.
Abstract
Objective
To assess health status of HIV-positive patients and to examine its predictors in Kunming, China.
Methods
HIV-positive patients were recruited from a general hospital and an infection hospital in 2015. Health status of the patients was evaluated using standardized questions on eight health domains (mobility, self-care, pain and discomfort, cognition, interpersonal activities, vision, sleep and energy, and emotional distress) of the WHO World Health Survey. A multivariate linear regression model was employed to explore the predictors of health status.
Results
A total of 1,363 HIV patients were recruited. The mean (SD) health status score was 73.4 (18.2), with the prevalence of reporting problems ranging from 17.6% (self-care problems) to 86.3% (vision problems). CD4 count, occupation, household income, accessibility to healthcare services, and healthcare expenditures were found to be significant predictors of health status.
Conclusions
Healthcare services for HIV patients may assist improvement of interpersonal activities and relieve emotional distress, and efforts are needed to continually increase accessibility to the services. Special attention should be given to those at low socioeconomic level and those suffering from low CD4 count.