06-11-2019 | Uitgave 1/2020 Open Access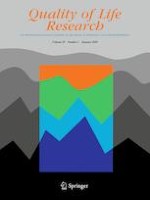 Health-related quality of life of children and their parents 6 months after children's critical illness
Tijdschrift:
Auteurs:

José Hordijk, Sascha Verbruggen, Ilse Vanhorebeek, Greet Van den Berghe, Elisabeth Utens, Koen Joosten, Karolijn Dulfer
Belangrijke opmerkingen
Electronic supplementary material
Publisher's Note
Springer Nature remains neutral with regard to jurisdictional claims in published maps and institutional affiliations.
Abstract
Purpose
This study aimed to examine health-related quality of life (HRQoL) of children and their parents, 6 months after the child's admission to the Pediatric Intensive Care Unit (PICU). Associations between parents' reports regarding HRQoL of their child and of themselves were investigated, as well as associations between children's baseline variables and their parent-reported HRQoL outcomes.
Methods
This is a secondary analysis of cross-sectional data collected in a group of children who participated in the PEPaNIC trial. Six months after discharge from the PICU, parents of critically ill children completed the Infant–Toddler Quality of Life Questionnaire (ITQOL, for age 0–3 years) or the Child Health Questionnaire-Parent Form 50 (CHQ-PF50, for age 4–18 years), which are parallel questionnaires. Parents completed the Short Form Health Survey (SF-12) regarding their own HRQoL. Results were compared with normative data.
Results
At 6 months' follow-up, 86 children of the 1343 (6%) had died which resulted in 1257 eligible children. Parents of 576 surviving children (46%) completed the questionnaires. Children of responding parents had less often an acute reason for admission and differed in diagnosis compared with children of non-responders. PICU children scored lower on most ITQOL (
n
 = 390) scales and CHQ-PF50 (
n
 = 186) scales compared with normative data. Parents reported (
n
 = 570) higher scores on the physical (
p 
< 0.001) and lower scores on the mental SF-12 scale (
p 
< 0.001) compared with normative data. Parents̕ mental HRQoL correlated with HRQoL they reported for their child (Pearson Correlations range 0.25–0.57,
p 
< 0.001–0.002). Shorter length of stay, lower risk of mortality, younger age, and cardiac diagnosis were associated with higher parent-reported HRQoL outcomes for the child.
Conclusions
Six months after PICU discharge, critically ill children have lower HRQoL compared with normative data. The mental component of HRQoL is impaired in parents and is associated with lower overall parent-reported HRQoL of their child.