21-01-2019 | Uitgave 6/2019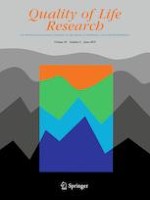 Health-related quality of life in hepatitis C patients who achieve sustained virological response to direct-acting antivirals: a comparison with the general population
Tijdschrift:
Auteurs:

Regina Juanbeltz, Jesús Castilla, Iván Martínez-Baz, Aisling O'Leary, Maite Sarobe, Ramón San Miguel
Belangrijke opmerkingen
Electronic supplementary material
Publisher's Note
Springer Nature remains neutral with regard to jurisdictional claims in published maps and institutional affiliations.
Abstract
Purpose
To compare health-related quality of life (HRQoL) between hepatitis C patients who achieve sustained virological response (SVR) to direct-acting antivirals and a sex- and age-paired sample of the general population.
Methods
HRQoL was evaluated in patients recruited in Navarre, Spain, from May 2016 to April 2017 at baseline and after SVR, using the EQ-5D-5L questionnaire. Both results were compared to those of general population of the same sex and age obtained from the 2011/12 National Health Survey in Spain. Observed/expected (O/E) ratios for health dimensions and differences between O-E in EQ-5D utility and visual analogical scale (VAS) scores were calculated.
Results
206 patients were studied. Before treatment, patients had more problems than the general population in every domain of EQ-5D-5L, except in self-care dimension (O/E = 1.1). After SVR, patients continued having more limitation, especially for usual activities (O/E = 3.1), anxiety/depression (O/E = 2.8) and EQ-5D utility (− 0.086,
p
 < 0.001); however, differences in VAS score between patients and general population disappeared (74.8 vs 76.5,
p
 = 0.210). F0–F1 patients with SVR had minor differences with the general population in EQ-5D-5L dimensions, utility and VAS score. Although cirrhotic patients also reduced that difference, they still had worse HRQoL, especially in usual activities, self-care, EQ-5D utility (− 0.152,
p
 < 0.001) and VAS score (− 8.5,
p
 = 0.005).
Conclusions
HRQoL of chronic hepatitis C patients remains lower than that of the general population despite viral clearance, with primary problems in usual activities and anxiety/depression. Knowledge of these on-going problems despite cure serves to guide healthcare interventions and patient's follow-up.