01-09-2011 | Uitgave 7/2011 Open Access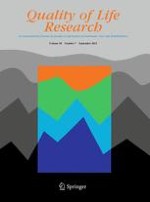 Health-related quality of life in adults reporting arthritis: analysis from the National Health Measurement Study
Tijdschrift:
Auteurs:

Dinesh Khanna, Paul Maranian, Mari Palta, Robert M. Kaplan, Ron D. Hays, Dasha Cherepanov, Dennis G. Fryback
Abstract
Background
Arthritis is the leading cause of disability in the United States. We assess the generic health-related quality-of-life (HRQOL) among a nationally representative sample of US adults with and without self-reported arthritis.
Methods
The NHMS, a cross-sectional survey of 3,844 adults (35–89 years) administered EuroQol-5D (EQ-5D), Health Utilities Index Mark 2 (HUI2) and 3 (HUI3), SF-36v2™, Quality of Well-being Scale self-administered form (QWB-SA), and the Health and Activities Limitations index (HALex) to each respondent via a telephone interview. Weighted multiple linear regression was used to generate age-gender-arthritis-stratified unadjusted HRQOL means and means adjusted for sociodemographic, socioeconomic covariates and comorbidities by arthritis–age category.
Results
The estimated population prevalence of self-reported arthritis was 31%. People with arthritis were more likely to be woman, older, of lower socioeconomic status, and had more self-reported comorbidities than were those not reporting arthritis. Adults with arthritis had lower HRQOL on six different indexes compared with adults without arthritis, with overall differences ranging from 0.03 (QWB-SA, age-group 65–74) to 0.17 (HUI3, age-group 35–44; all
P
-value < .05).
Conclusion
Arthritis in adults is associated with poorer HRQOL. We provide age-related reference values for six generic HRQOL measures in people with arthritis.