01-09-2014 | Uitgave 7/2014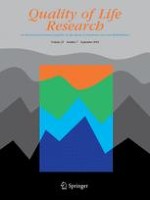 Health-related quality of life and body mass index among US adolescents
Tijdschrift:
Auteurs:

Wanjun Cui, Matthew M. Zack, Holly Wethington
Belangrijke opmerkingen
Disclaimer
: The findings and conclusions in this report are those of the authors and do not necessarily represent the official position of the Centers for Disease Control and Prevention.
Abstract
Purpose
To examine the magnitude of differences in health-related quality of life (HRQOL) by body mass index (BMI) in a population-based sample of United States adolescents overall and by sex, and to provide national prevalence estimates of reported HRQOL outcomes for not only obese and overweight but also underweight adolescents.
Methods
From the 2001 through 2010 cross-sectional National Health and Nutrition Examination Surveys, we estimated the percentages of four HRQOL outcomes—self-rated health, physically unhealthy days, mentally unhealthy days, and activity limitation days—in four BMI categories—obese, overweight, normal weight, and underweight—of approximately 6,000 US adolescents aged 12–17 years. We also estimated the percentages for boys and girls separately.
Results
Substantial gaps in self-rated health exist between normal-weight adolescents and those who are obese and overweight, but not underweight. Eighteen percent (95 % CI 15–22) of obese adolescents reported fair or poor health compared to only 5 % (95 % CI 4–7) of normal-weight adolescents. Thirty-seven percent (95 % CI 33–42) of obese adolescents reported excellent or very good health, compared to 65 % (94 % CI 63–67) of normal-weight adolescents. However, all BMI groups reported similar percentages of physically unhealthy days, mentally unhealthy days, and activity limitation days. The associations between HRQOL and BMI groups did not vary by sex. Boys generally reported significantly better self-rated health and mental health than girls. Specifically, obese boys reported better self-rated health, mental health, and fewer activity limitation days than obese girls.
Conclusions
Substantially, significant differences in some domains of HRQOL are found between above normal-weight and normal-weight US adolescents. This relationship between BMI and HRQOL is robust and observed among both boys and girls.