Gepubliceerd in: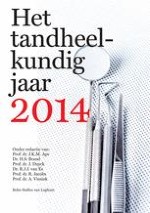 2014 | OriginalPaper | Hoofdstuk
1. Handhygiëne en de administratieve apparatuur
Inleiding
In de mondzorgpraktijk is het bijna onmogelijk een patiënt te behandelen zonder deze aan te raken. De handen van tandartsen en andere mondzorgprofessionals zijn het grootste deel van de behandeltijd in aanraking met speeksel en bloed of met materialen en hulpmiddelen die hiermee bevuild zijn. Het gevolg van dit directe of indirecte contact kan een besmetting zijn met ziekteverwekkende bacteriën en virussen. Om zichzelf tegen dit risico te beschermen, draagt een tandarts handschoenen. Door deze na iedere patiënt te verschonen, wordt voorkomen dat micro-organismen van de ene naar de andere patiënt overgaan. Bovendien voert een tandarts de handhygiëne uit om vuil en microbiële flora, die zowel resident als transiënt kan zijn, van de handen te verwijderen en daarmee verdere verspreiding van microben naar patiënten, teamleden, oppervlakken en voorwerpen (kruiscontaminatie) te voorkomen. Het dragen van handschoenen vervangt de handhygiëne niet: vóór het aan- en na het uittrekken van de handschoenen moet één of andere vorm van handhygiëne worden uitgevoerd. Vooraf, om contaminatie te voorkomen tijdens het aantrekken en contaminatie van het werkgebied ingeval de handschoen tijdens de ingreep stukgaat. Achteraf, om infectieus materiaal te verwijderen dat eventueel via kleine perforaties is binnengedrongen of tijdens het uitdoen op de huid terecht is gekomen. Handhygiëne achteraf dient ook de verwijdering van micro-organismen die zich tussentijds in het vochtige milieu onder de handschoen hebben vermenigvuldigd. Handhygiëne wordt beschouwd als de belangrijkste infectiepreventiemaatregel tegen kruiscontaminatie. Andere infectiepreventiemaatregelen zijn, bijvoorbeeld, de decontaminatie van besmette oppervlakken, voorwerpen en instrumenten en, op het persoonlijke vlak, de vaccinaties tegen bepaalde infectieziekten, zoals hepatitis B. Laatstgenoemde maatregel moet voorkomen dat behandelaars na blootstelling aan het hepatitis B-virus drager worden en zelf als besmettingsbron gaan fungeren. Het zijn met name de vele clusters van hepatitis B-overdracht door mondzorgmedewerkers in de jaren zeventig en tachtig van de vorige eeuw en de hiv-besmetting van vijf patiënten door hun tandarts, die het Amerikaanse Centers for Disease Control and Prevention (CDC,
www.​cdc.​gov/​OralHealth/​infectioncontrol​/​
) in 1986 en 1993 ertoe gebracht heeft richtlijnen voor infectiepreventie voor tandartsen op te stellen. In het algemeen wordt aangenomen dat de naleving van deze richtlijnen samen met hepatitis B-vaccinatie in de tandheelkunde geresulteerd heeft in vermindering van hepatitis B-infecties en besmettingen met door bloed overdraagbare pathogenen (Cleveland et al., 2012). In Nederland heeft de Werkgroep Infectiepreventie soortgelijke gedragsregels vastgelegd in de richtlijn
Infectiepreventie in de tandheelkundige praktijk
(WIP, 2007).