20-08-2020 | Review Article | Uitgave 5/2020 Open Access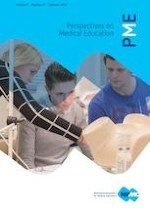 Group mentorship for undergraduate medical students—a systematic review
Tijdschrift:
Auteurs:

Elise Pauline Skjevik, J. Donald Boudreau, Unni Ringberg, Edvin Schei, Terese Stenfors, Monika Kvernenes, Eirik H. Ofstad
Belangrijke opmerkingen
Electronic supplementary material
Introduction
Our aim was to identify group-based mentorship programs for undergraduate medical students, and describe their aims, structures, contents and program evaluations. Based on our findings and existing literature, we make recommendations for the organization and assessment of such programs. Quality assessment of the quantitative studies was done using the Medical Education Research Study Quality Instrument (MERSQI).
Methods
Results
The 20 studies included describe 17 different group mentorship programs. Three of the studies describe the "Physician Apprenticeship" program at McGill University in Montreal, while two studies describe the mentoring program at the University of Delhi, which was revised in 2010 and is therefore described in two separate papers.
The studies provided, to a various extent, information about the programs' aims and structure, participants, evaluation and outcomes. MERSQI scores ranged from 6 to 11 (mean 7.4, SD 1.44, [
n
 = 11]). Tab.
3
summarizes the main elements of the different mentorship programs, including MERSQI and Kirkpatrick assessments. Greater details regarding aims, structure, content and program evaluation are presented in Appendix 3 of the Supplementary Online Material.
In the following section, we present the findings concerning organization and aims of group-based mentorship programs and identified challenges, mentor characteristics, and evaluation strategies and results.
Organization and aims of group mentorship programs
Who are the mentors?
Faculty members or experienced physicians acted as mentors in almost all programs [
25
,
27
,
29
–
33
,
38
,
39
,
42
–
44
]. Some programs provided dual mentoring; frequently, the mentor pair consisted of a faculty member and a senior medical student [
26
,
35
,
37
,
41
]. One program was based solely on peer-mentoring, with mentors being second-year and mentees first-year students [
28
].
In some programs [
28
,
37
], the mentors were volunteers. Only four studies [
29
,
31
–
33
] reported on financial compensation, which ranged from 12,000 USD [
33
] to 30,000 USD per year [
31
]. Furthermore, four studies reported on the amount and quality of faculty development for the mentor role, describing that the mentors were invited to workshops [
25
,
28
,
37
], seminars [
42
] and supervisory meetings [
43
] in order to prepare for group sessions and share experiences with colleagues.
Evaluation strategies and results
Challenges for group-based mentorship programs
Some of the studies described barriers to well-functioning mentoring. In evaluating the mentorship program at Sao Paolo University in Brazil, many mentors expressed frustration because of the students' low attendance or absence. Furthermore, they experienced doubt in dealing with the initial expectations about the mentoring role [
43
]. Both at Bahria University in Pakistan [
44
] and Sao Paulo University [
43
], some of the mentors felt burdened at times as mentoring was an additional and time-consuming assignment. The students identified various impediments to positive interpersonal communication, including lack of reliability, breaking confidentiality rules and disrespect in the groups.
At the University of Delhi, about one third of the mentorship groups never met during the academic year, mentees were often reluctant to contact the mentors, and finding the appropriate time for all parties was described as a common challenge [
40
]. Various other barriers were reported, including: technology issues, logistics, a lack of 'personal chemistry' in the group and time constraints [
27
].
Discussion and recommendations
Our systematic review reports on the nature of group-based mentorships in medical schools located in seven different countries. The programs included in this review had similar overall aims (personal and professional development and student support). However, we found large variations in the way they were organized. This may reflect differing interpretations of professionalism among universities and suggests that there are several ways to foster professional development.
A key element of transformative learning in professional development is partaking in reflective discussions with others [
46
]. Medicine is teamwork, hence communication skills and reflective discourses in group settings are essential parts of being a physician. Whilst the intimacy of one-on-one mentoring may facilitate coaching on the personal aspects and unique vulnerabilities of an individual student's educational experience, a group setting can provide a framework that offers rich possibilities for relationship building. This format provides an avenue for peers of varied backgrounds and resources to share experiences and to reflect on social interactions and relational skills [
47
].
In the following discussion, we draw upon the institutions' experiences with group-based mentoring, as presented in the 20 studies, and explore the essential factors for well-functioning group mentorship programs. The majority of the studies provided sufficient information on mentorship structures and evaluation strategies and have permitted us to propose a set of recommendations for group-mentorship programs. These are presented in Tab.
4
.
Table 4
Recommended features for mentorship programs
The mentorship program should be longitudinal throughout the medical education
Mentorship activities should be designed to align with the overall curriculum
The program should be mandatory
Mentors should be (experienced) physicians, either alone or in pairs, and may be accompanied by a student mentor
A small financial reward or promotion for mentors may reduce "wear and tear"
Mentors should be empowered by introductory courses, frequent mentor gatherings or workshops and faculty support
Optimal organizational features
Who should mentor medical students in groups?
The majority of the studies reported that either physicians or faculty members fill the roles of mentors. If the mentorship aim is to foster professionalism, it may be reasonable to recommend experienced physicians over near-peer mentoring by medical students. However, our findings indicate that a combination of a physician mentor assisted by a senior student can work really well [
26
,
35
,
37
]. In evaluating the revised program at the University of Delhi [
40
], nearly all faculty mentors and mentees appreciated the contributions of the co-mentors [
41
]. The involvement of experienced student mentors can be preferable as it will maintain desirable mentor-mentee ratios, especially in medical schools with large classes where it may be difficult to recruit enough physician mentors.
With regards to incentives for mentors, our findings do not indicate that they are essential to motivate mentors. For instance, the group mentorship program at the University of Saarland is described as well-functioning and popular with both mentees and mentors, even without faculty support, incentives and mandatory participation [
38
]. However, for the recruitment and sustainability of a motivated mentor force, a small financial reward or promotion may reduce "wear and tear".
Nimmons et al. recommended that mentors should receive guidance in the requirements of the role and in delivering effective feedback to mentees [
20
]. Faculty development and administrative support to mentors in one of the identified programs was described as a key element [
26
]. Many mentors at Sao Paolo University experienced doubt concerning the expectations of the mentor role and its tasks [
43
]. We suggest an approach to empower group mentors: firstly, every mentor should participate in an introductory workshop where the program aims and methods to achieve these aims are emphasized [
28
,
37
,
42
,
43
]. Secondly, mentors should have the possibility to attend frequent mentor gatherings to facilitate debriefing and reflective discussions [
42
,
43
].
Program evaluation
In evaluations using a quantitative design, the response rates varied considerably. Low response rates (<50%) increase the risk of selection bias and hamper external validity, which was the case in some studies [
26
,
27
], while response rates were not reported in others [
29
,
30
,
38
]. One of the programs used the four-level Kirkpatrick model for evaluation [
25
]. Only a few studies reported on barriers to well-functioning mentoring; there is a need to address such challenges in future studies.
The two most informative evaluations were both conducted using mixed methods [
25
,
35
]. Mixed-methods design may be advisable for researchers who want to describe and assess group mentorship programs in the future, in order to collect comprehensive data. Additionally, case-studies as described in some of the included studies [
27
,
37
] can be recommended as an approach to provide more in-depth knowledge concerning educational strategies [
48
].
Limitations
A significant limitation of this study is the variety of approaches used to evaluate the mentorship programs. Lack of uniform terminology and diverse evaluation strategies, especially non-validated methods of assessment, makes it challenging to compare outcomes of mentorship programs [
49
]. There is a need for more research-based evaluation designs of group mentorship programs, particularly to learn more about the effects of programs at Kirkpatrick's level 3 and 4.
The studies assessed with MERSQI in this review ranged from 6 to 11 (mean 7.4, SD 1.44,
n
 = 11). Most of the studies used a single-group cross-sectional design conducted at a single institution, hence yielding a low score. Furthermore, none of the studies reported validity of evaluation instruments. This, combined with low or non-reported response rates, resulted in mostly low MERSQI scores for studies using quantitative assessments. This makes it difficult to draw robust conclusions from most of the identified studies.
Given our decision not to include the grey literature, we may not have benefited from the experience of group mentorships that have been implemented but not reported on in the peer-reviewed literature. Future studies should consider performing an adjuvant search in the grey literature.
Our findings indicate that the establishment of mentorship programs for medical students, including group-based programs, is a trend worldwide. However, when considering the absolute number of medical schools, particularly in continental countries, there is reason to believe that the 17 group-based programs identified in this review represent a small percentage of existing programs.
Conclusion
Group mentoring as an educational strategy for medical students holds great potential. We identified 17 different mentorship programs in seven countries, and the evaluation data are remarkably supportive of mentoring medical students in groups. However, the scientific literature on this emergent genre is sparse and the quality of publications is modest. Our findings indicate that group mentorship programs benefit from being longitudinal and mandatory throughout undergraduate medical school, and that mentorship organizers must pay close attention to ensuring the quality of the program through curriculum alignment, the support of mentors and continuous evaluation to keep the program on track.
Acknowledgements
The authors wish to thank Eirik Reierth at UiT the Arctic University of Norway for his advice on review design and his contributions in planning the literature search.
Open Access
This article is licensed under a Creative Commons Attribution 4.0 International License, which permits use, sharing, adaptation, distribution and reproduction in any medium or format, as long as you give appropriate credit to the original author(s) and the source, provide a link to the Creative Commons licence, and indicate if changes were made. The images or other third party material in this article are included in the article's Creative Commons licence, unless indicated otherwise in a credit line to the material. If material is not included in the article's Creative Commons licence and your intended use is not permitted by statutory regulation or exceeds the permitted use, you will need to obtain permission directly from the copyright holder. To view a copy of this licence, visit
http://​creativecommons.​org/​licenses/​by/​4.​0/​
.