19-06-2015 | Original Paper | Uitgave 2/2016 Open Access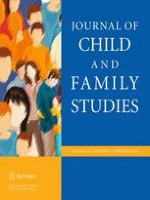 Good for the Self: Self-Compassion and Other Self-Related Constructs in Relation to Symptoms of Anxiety and Depression in Non-clinical Youths
Tijdschrift:
Auteurs:

Peter Muris, Cor Meesters, Anna Pierik, Bo de Kock
Introduction
Method
Participants and Procedure
One-hundred-and-thirty-two adolescent participants (56 boys and 76 girls) aged between 12 and 17 years (
M
= 14.8 years,
SD
= 1.09) were recruited from three different high schools in the Southern part of the Netherlands (i.e., 'Emma College' in Hoensbroek, 'Trevianum' in Sittard, and 'Het College' in Weert). Most participants were from original Dutch descent (i.e., >90 %), and all of them had a good mastery of the Dutch language. Participants from three educational levels were included: 16.7 % followed low- or middle-level preparatory vocational education, 34.1 % higher general continued education, and 49.2 % pre-university secondary education. No exact information on the socio-economic status of the participants was available, but based on the occupations of both parents, it was estimated that 20.5 % of the participants had a low, 58.3 % a middle, and 21.2 % a high socio-economic background. The study was approved by the Ethical Committee of Psychology (ECP) at Maastricht University.
The directors of the schools were approached by telephone and after they decided to cooperate, 550 students were approached by sending their parents an information letter that also contained a consent form. About one quarter of the parents (i.e., 24 %) signed the form granting their child to participate in the study. These participants completed the set of questionnaires and a sheet with background information (such as age, sex, educational level, and the professions of their parents) during regular classes at school. The completion of the full survey lasted for about 20 min. All participants received a small reward (i.e., snack) in return for their participation. In addition, after the final testing session there was a lottery during which 10 participants could win a film voucher (€10).
Questionnaires
Results
Discussion
It should be acknowledged that the present study suffers from various limitations. First and foremost, as noted earlier we employed a cross-sectional design, which means that no conclusions can be drawn on the cause-effect relation between self-compassion, other self-related constructs, and symptoms of anxiety and depression. Second, only about a quarter of the participants who were approached actually participated in this research by completing the set of questionnaires, which of course raises doubts on the generalizability of the current findings to the entire adolescent population. Third, this research was conducted in a European country (i.e., The Netherlands), while most previous research on self-compassion in youth has been conducted in the United States. It is possible that inconsistencies between findings of this study and earlier work reflect cultural differences. Fourth and finally, this investigation also relied on a non-clinical sample, and so it would be interesting to conduct this study in youths displaying clinical levels of anxiety and depression. Self-compassion, self-esteem, and self-efficacy all seem to be good for the self, and so it is worthwhile to know exactly what the relationships are among these constructs and which of these self-related constructs matter the most in youths actually suffering from these common types of psychopathology as this may also provide important leads for treatment.
Acknowledgments
The authors thank Marieke Jansen and Anke Herings for collecting additional data for this research project.
Open Access
This article is distributed under the terms of the Creative Commons Attribution 4.0 International License (http://creativecommons.org/licenses/by/4.0/), which permits unrestricted use, distribution, and reproduction in any medium, provided you give appropriate credit to the original author(s) and the source, provide a link to the Creative Commons license, and indicate if changes were made.
Appendix
Items of the Shortened Self-Compassion Scale for Adolescents (S-SCS-A) and corresponding items (and numbers) from the original scale.
1.
When I feel sad, I try to be tender to myself.
I try to be loving towards myself when I am feeling emotional pain (SCS-5).
2.
When I have problems, I remind myself that everybody has difficulties from time to time.
When things are going badly for me, I see the difficulties as part of life that everyone goes through (SCS-3).
3.
When something upsets me, I am also able to think about things that are still going well.
When something upsets me, I try to keep my emotions in balance (SCS-9).
4.
When I feel unhappy, I try to be kind to myself.
I'm kind to myself when I'm experiencing suffering (SCS-19).
5.
When I feel sad, I remind myself that I am not the only person on the world feeling this way.
When I am down and out, I remind myself that there are lots of other people in the world feeling like I am (SCS-7).
6.
When things go wrong, I try to say to myself that it might still be worse.
When something painful happens, I try to take a balanced view of the situation (SCS-14).
7.
When I am going through a hard time, I take good care of myself.
When I am going through a hard time, I give myself the caring and tenderness I need (SCS-12).
8.
When I handle things the wrong way, I remind myself that everybody makes mistakes from time to time.
When I feel inadequate in some way, I remind myself that feelings of inadequacy are shared by most people (SCS-10).
9.
When I am feeling down, I am still able to think about positive things.
When I am feeling down, I try to approach my feelings with curiosity and openness (SCS-22).
Note
Items 1, 4 and 7 = self-kindness; items 2, 5, and 8 = common humanity; items 3, 6, and 9 = mindfulness.
SCS
Self-Compassion Scale (Neff
2003b
).