01-02-2011 | Interuniversity Cardiology Institute of the Netherlands | Uitgave 2/2011 Open Access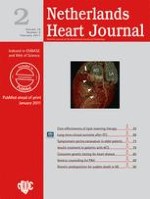 Genetic predisposition for sudden cardiac death in myocardial ischaemia: the Arrhythmia Genetics in the NEtherlandS study
Tijdschrift:
Auteurs:

R. F. J. Marsman, A. A. M. Wilde, C. R. Bezzina
Abstract
Sudden cardiac death from ventricular fibrillation during myocardial infarction is a leading cause of total and cardiovascular mortality. This multifactorial, complex condition clusters in families, suggesting a substantial genetic cause. We carried out a genomewide association study (GWAS) for sudden cardiac death, in the AGNES (Arrhythmia Genetics in the Netherlands) population, consisting of patients with (cases) and without (controls) ventricular fibrillation during a first ST-elevation myocardial infarction. The most significant association was found at chromosome 21q21 (rs2824292; odds ratio = 1.78, 95% CI 1.47–2.13,
P
 = 3.3 × 10
−10
), 98 kb proximal of the
CXADR
gene, encoding the Coxsackie and adenovirus receptor. This locus has not previously been implicated in arrhythmia susceptibility. Further research on the mechanism of this locus will ultimately provide novel insight into arrhythmia mechanisms in this condition.