23-12-2014 | Uitgave 5/2015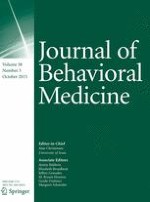 Genetic counseling content: How does it impact health behavior?
Tijdschrift:
Auteurs:

Kimberly M. Kelly, Lee Ellington, Nancy Schoenberg, Thomas Jackson, Stephanie Dickinson, Kyle Porter, Howard Leventhal, Michael Andrykowski
Abstract
Women with hereditary breast-ovarian cancer face decisions about screening (transvaginal ultrasound, CA125, mammography, breast exams) and proactive (before cancer) or reactive (after cancer) surgery (oophorectomy, mastectomy). The content of genetic counseling and its relation to these key health behaviors is largely unexamined. Ashkenazi Jewish women (
n
= 78) were surveyed through the process of genetic testing and had audiorecorded counseling sessions available for Linguistic Inquiry and Word Count analysis. Proportions for participant and counselor cognitive and affective content during sessions were used as primary predictor variables in linear mixed models for change in intentions for screening and treatment and in self-reported screening. Cognitive and affective content were important predictors of behavior. Counselor cognitive content was associated with ovarian screening. An interaction effect also emerged for CA-125, such that counselor cognitive content plus participant cognitive content or counselor affective content were associated with more screening. Teasing out the factors in risk communication that impact decision-making are critical, and affect from a risk communicator can spur action, such as cancer screening.