09-09-2015 | Original Article | Uitgave 11/2015 Open Access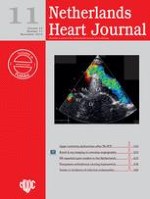 General practitioner reported incidence of Lyme carditis in the Netherlands
Tijdschrift:
Auteurs:

A. Hofhuis, S.M. Arend, C.J. Davids, R. Tukkie, W. van Pelt
Abstract
Background
Between 1994 and 2009, incidence rates of general practitioner (GP) consultations for tick bites and erythema migrans, the most common early manifestation of Lyme borreliosis, have increased substantially in the Netherlands. The current article aims to estimate and validate the incidence of GP-reported Lyme carditis in the Netherlands.
Methods
We sent a questionnaire to all GPs in the Netherlands on clinical diagnoses of Lyme borreliosis in 2009 and 2010. To validate and adjust the obtained incidence rate, medical records of cases of Lyme carditis reported by GPs in this incidence survey were reviewed and categorised according to likelihood of the diagnosis of Lyme carditis.
Results
Lyme carditis occurred in 0.2 % of all patients with GP-reported Lyme borreliosis. The adjusted annual incidence was six GP-reported cases of Lyme carditis per 10 million inhabitants, i.e. approximately ten cases per year in 2009 and 2010.
Conclusions
We report the first incidence estimate for Lyme carditis in the Netherlands, validated by a systematic review of the medical records. Although Lyme carditis is an uncommon manifestation of Lyme borreliosis, physicians need to be aware of this diagnosis, in particular in countries where the incidence of Lyme borreliosis has increased during the past decades.