29-10-2020 | Empirical Research | Uitgave 2/2021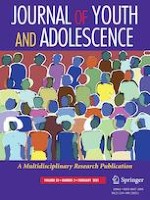 Gender-Specific Patterns of Teen Dating Violence in Heterosexual Relationships and their Associations with Attachment Insecurities and Emotion Dysregulation
Tijdschrift:
Auteurs:

Valérie Théorêt, Martine Hébert, Mylène Fernet, Martin Blais
Belangrijke opmerkingen
Publisher's note
Springer Nature remains neutral with regard to jurisdictional claims in published maps and institutional affiliations.
Abstract
Teen dating violence is a complex issue associated with several deleterious consequences. Previous studies emphasize the importance of considering the heterogeneity of teen dating violence experiences to better understand this issue and its correlates. In this perspective, the present study aimed to identify gender-specific patterns of teen dating violence in heterosexual relationships based on directionality (victimization and perpetration) and forms of violence (psychological, physical and sexual). In addition, this study aimed to investigate how these patterns are differentially associated with attachment insecurities and emotion dysregulation. A total of 3100 adolescents who reported being in a heterosexual romantic relationship (mean age = 15.92 years; 60% girls) completed questionnaires on teen dating violence, romantic attachment and emotion dysregulation. Latent class analyses revealed four distinct patterns of teen dating violence. The first three patterns, namely
Low dating violence
(40% of girls and 54% of boys)
, Mutual psychological dating violence
(34% of girls and 33% of boys) and
Mutual psychological and physical dating violence
(14% of girls and 5% of boys), were found for both genders. The last pattern differed greatly based on gender and was labeled
Mutual psychological dating violence and sexual victimization
in girls (12%) and
Multiple dating violence victimization
in boys (8%). Higher levels of emotion dysregulation and attachment insecurities were found in adolescents experiencing more complex patterns of dating violence. This study contributes to the development of teen dating violence prevention and intervention programs by identifying gender-specific patterns of teen dating violence and documenting their associations with important trauma-informed correlates.