07-10-2015 | Original Article | Uitgave 12/2015 Open Access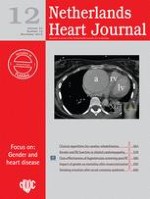 Gender differences in right ventricular function in patients with non-ischaemic cardiomyopathy
Tijdschrift:
Auteurs:

M. Martínez-Sellés, E. Pérez-David, R. Yotti, J. Jiménez-Borreguero, G. Loughlin, L. Gallego, A. Ayesta, M.J. Olivera, J. Bermejo, F. Fernández-Avilés
Abstract
Aim
To evaluate sex-related differences in right ventricular (RV) function, assessed with cardiac magnetic resonance imaging, in patients with stable non-ischaemic dilated cardiomyopathy.
Methods
Prospective multicentre study. We included 71 patients (38 men) and 14 healthy volunteers.
Results
Mean age was 60.9 ± 12.2 years. Men presented higher levels of haemoglobin and white blood cell counts than women, and performed better in cardiopulmonary stress testing. A total of 24 patients (12 women) presented severe left ventricular (LV) systolic dysfunction, 32 (13 female) moderate and 15 (8 women) mild LV systolic dysfunction. In the group with severe LV systolic dysfunction, average right ventricular ejection fraction (RVEF) was normal in women (52 ± 4 %), whereas it was reduced in men (39 ± 3 %)
p
 = 0.035. Only one woman (8 %) had severe RV systolic dysfunction (RVEF < 35 %) compared with 6 men (50 %)
p
 < 0.001. In patients with moderate and mild LV dysfunction , the mean RVEF was normal in both men and women. In the 14 healthy volunteers, the lowest value of RVEF was 48 % and mean RVEF was normal in women (56 ± 2 %) and in men (51 ±  1 %),
p
 = 0.08.
Conclusions
In patients with dilated cardiomyopathy, RV systolic dysfunction is found mainly in male patients with severe LV systolic dysfunction.