01-11-2009 | Original article | Uitgave 11/2009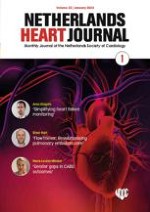 Gender differences in adult congenital heart disease
Tijdschrift:
Auteurs:

P. Engelfriet, B. J. M. Mulder
Belangrijke opmerkingen
Centre for Prevention and Health Services Research, National Institute for Public Health and the Environment, Bilthoven, the Netherlands
Department of Cardiology, Academic Medical Center, Amsterdam, and Department of Cardiology, University Medical Center Utrecht, the Netherlands
B.J.M. Mulder Department of Cardiology, Rm B2–240, Academic Medical Center, PO Box 22660, 1100 DD Amsterdam, the Netherlands
Abstract
Objective
. To assess gender differences in morbidity, mortality and patient management among adults born with a heart defect.
Methods and results
. The database of the European Heart Survey on adult congenital heart disease was explored. This contains data on 4110 patients with one of eight congenital heart defects followed retrospectively for a median of 5.1 years. The existence of gender differences was assessed by considering mortality and a few 'overall' measures of morbidity. Adjusting for type of defect and age, it was found that cumulative mortality was greater in the male population (hazard ratio 1.63 (95% CI 1.12 to 2.38); p=0.011)). A significantly greater proportion of females had functional limitations (NYHA functional class >1; 37% vs. 29% of men; p=0.003). However, males were more likely to be on chronic medication during follow-up (59% vs. 55% of women; p=0.001), and males underwent diagnostic procedures more frequently (1.58/patient-year vs. 1.48/patient-year for women; p<0.02). There was no significant difference in the proportions of patients who underwent at least one intervention during follow-up, and rates of outpatient (re-)visits were not different between the sexes.
Conclusion
. This exploratory assessment of a large international database found evidence that gender differences exist in morbidity and mortality among adult patients with congenital heart disease, as well as in medical management. Future studies in adult congenital heart disease should always take into account the effects of gender. (Neth Heart J 2009; 17:414–7.)