01-12-2014 | Original Article | Uitgave 6/2014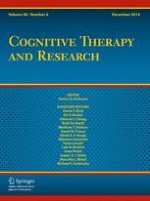 Gender and Attention in Depression: Examining the Role of Modified Attention in Shifting Mood and Cognitions
Tijdschrift:
Auteurs:

Shadi Beshai, Jennifer L. Prentice, Keith S. Dobson, Katarzyna Nicpon
Abstract
The modified selective attention hypothesis proposes that individuals showing signs of depression will fail to disengage from negative stimuli in the environment. Some research suggests that depressive symptoms decrease once this bias is "corrected". Thus, attention may play a causal and/or sustaining role in depression. The present study examined whether (a) attention can be modified in a student sample to induce a negative attentional bias; and (b) this trained attentional bias will be associated with negative shifts in mood and cognitions. A sample of undergraduates (
N
= 112) were recruited and asked to complete questionnaires designed to measure depressive symptoms, mood, and negative thoughts toward the self. Participants were then randomly assigned to either an attend-negative (
n
= 60) or a no-training control condition (
n
= 52), and asked to complete a computer task. In the attend-negative condition, the computer task (dot probe) was designed to elicit a transient attentional bias toward negative stimuli. After the completion of this task, participants completed the questionnaires a second time. Participants in the experimental condition evidenced higher negative attentional bias scores in comparison to control participants. Further, females demonstrated more negative attention at the end of the training relative to males. Repeated measures analysis of variances further found that following the completion of the computer task, both groups evidenced a negative shift in mood. These results must be interpreted with caution given that baseline attentional biases were not measured in this study. Replication and extension of the findings of this study is necessary.