01-04-2013 | Wetenschap | Uitgave 3/2013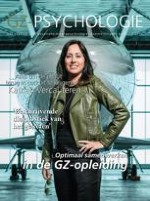 Gehechtheid in de behandelkamer
Tijdschrift:
Auteur:

Dr. A.J.G. Vinke
Belangrijke opmerkingen
1 Bruce Perry mond. Comm 2012 EUSARF conference Glasgow
Auteur
Dr. Anneke J.G. Vinke, vrijgevestigd GZ-psycholoog/Registerpsycholoog NIP, Kind & Jeugd/Orthopedagoog Generalist, docent aan de Masteropleiding Pedagogiek van de Hogeschool Arnhem Nijmegen te Nijmegen en voorzitter van het Bestuur van het Adoptie Driehoek Onderzoeks Centrum (ADOC) in Leiden. Correspondentieadres: Joos van Clevelaan 1, 3723 PG Bilthoven, info@adoptiepraktijk.nl;
www.​adoptiepraktijk.​nl
;
www.​adoptionresearch​.​nl
Samenvatting
Gehechtheid staat aan de basis van elk menselijk leven. Veilig gehechte mensen vergaat het over het algemeen beter dan mensen die onveilig gehecht zijn, zowel wat tevredenheid als wat gezondheid betreft (Ryff & Singer, 2000). De mens is erop gericht om wederzijdse intieme relaties aan te gaan met anderen: allereerst als kind met de belangrijkste opvoeder, in de adolescentie met vrienden en later als volwassene met een partner en later met kinderen die in een relatie worden geboren of anderszins deel gaan uitmaken van het gezin. Perry (2012) stelt
'people make the difference in other people's lives not programmes'
1
. Hiermee benadrukt hij ook in therapeutische zin het belang van de relatie.
Als ik dat als uitgangspunt neem, valt me op er weinig behandelmethoden en protocollen zijn die zich
expliciet
richten op gehechtheid. Deze lijken zich te beperken tot problematiek in de eerste levensjaren en ook daarbij is het de vraag hoe bekend de gemiddelde behandelaar hiermee is. De focus op gedragsproblemen en geprotocolleerde gedragsinterventies kan als risico met zich meebrengen dat onderliggende gehechtheids- en daaruit voortkomende relationele problematiek gemist wordt, terwijl deze wellicht een grote bijdrage levert aan de hulpvraag.
In dit artikel probeer ik enigszins in die lacune te voorzien. Allereerst ga ik kort in op de gehechtheidstheorie, de bijdrage van gehechtheid aan het voorkomen en ontstaan van psychologische hulpvragen en tracht een overzicht te geven van gehechtheidsbevorderende interventies die in de psychologische praktijk ingezet kunnen worden, met een beknopte beschrijving van manieren waarop er gericht gewerkt kan worden aan herstel en reparatie van gehechtheidsrepresentaties binnen de context van een psychologische behandeling (Kelly & Popper, 2009).