01-08-2012 | Uitgave 3/2012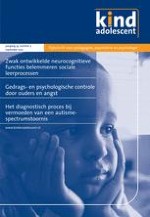 Gedrags- en psychologische controle door ouders en symptomen van gegeneraliseerde en separatieangststoornis bij adolescenten
Tijdschrift:
Auteurs:

Dr. Saskia A. M. Wijsbroek, Dr. William W. Hale III, Dr. Quinten A. W. Raaijmakers, Prof. Dr. Wim H. J. Meeus
Belangrijke opmerkingen
Universitair docent
Universitair hoofddocent/statistisch expert
Dit artikel is een Nederlandstalige bewerking van:
Wijsbroek, S. A. M., Hale III, W. W., Raaijmakers, Q. A.W. , & Meeus, W. H. J. (2011). The direction of effects between perceived parental behavioral control and psychological control and adolescents' self-reported gad and sad symptoms.
European Child and Adolescent Psychiatry, 20
, 361-371.
SAMENVATTING
In recent onderzoek bestaat geen consensus over de vraag welk effectmodel verklarend is voor de wisselwerking tussen ouderlijke controle en angst bij adolescenten; een kind-effectmodel, een ouder-effectmodel of een bi-directioneel effectmodel. In deze studie wordt de richting van effecten onderzocht tussen door adolescenten waargenomen ouderlijke gedragscontrole en psychologische controle en door adolescenten gerapporteerde symptomen van een gegeneraliseerde angststoornis en separatieangststoornis. 1313 Nederlandse adolescenten uit de algemene adolescentenpopulatie vulden op drie meetmomenten vragenlijsten in over eigen probleemgedrag en ouderlijk gedrag. Structural equation modeling (
sem
) werd gebruikt om de richting van effecten tussen waargenomen ouderlijke controle en angstsymptomen te analyseren. De resultaten passen binnen een uni-directioneel kind-effectmodel. Door adolescenten gerapporteerde angstsymptomen voorspelden de waarneming van ouderlijke controle twee jaar later. Adolescenten met angstsymptomen ervaren hun ouders twee jaar later als meer controlerend. De angstsymptomen bij adolescenten bleken sterker en systematischer samen te hangen met psychologische controle dan met gedragscontrole.