01-09-2012 | Beschouwing | Uitgave 9/2012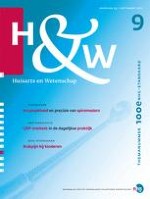 Functionele buikpijn bij kinderen en psychische factoren
Tijdschrift:
Auteurs:

Marieke Gieteling, Yvonne Lisman-van Leeuwen, Marjolein Berger
Belangrijke opmerkingen
Erasmus MC, afdeling Huisartsgeneeskunde, Postbus 2040, 3000 CA Rotterdam : huisarts. hoogleraar huisartsgeneeskunde, epidemioloog.
Correspondentie: Mogelijke belagenverstrengeling: nites aangegeven.
Samenvatting
Gieteling MJ, Lisman-van Leeuwen Y, Berger MY. Functionele buikpijn bij kinderen en psychische factoren. Huisarts Wet 2012;55(9):393-7.
Bij bijna twee van de drie kinderen die vanwege buikpijn op het spreekuur van de huisarts komen, vindt de huisarts geen onderliggende oorzaak voor de buikpijn. Deze buikpijn noemt men functioneel en is vaak al chronisch als het kind op het spreekuur komt. De buikpijn heeft een negatieve invloed op het welzijn en functioneren van het kind. Men veronderstelt dat er een relatie bestaat met psychosociale problematiek. In eerste-, tweede- en derdelijnsonderzoek zien we verbanden met gedragskenmerken van het kind, zoals naar binnen gekeerd en verlegen gedrag, en met een angststoornis of depressie. Er is onvoldoende bewijs om te kunnen zeggen dat psychische problemen bij het kind van invloed zijn op het ontstaan van functionele buikpijn. Wel is er enig bewijs dat angst en depressie van moeder of vader voorspellen of hun kind functionele buikpijn krijgt.
Bij kinderen die naar de huisarts gaan met functionele buikpijn komen veel psychische problemen voor. Uit een prospectief cohortonderzoek van 305 kinderen tussen de 4 en 18 jaar die buikpijn hebben, bleek 26% depressieve klachten te hebben, 15,3% angstklachten en 60,5% verschillende functionele klachten. Na een jaar had respectievelijk 30, 30 en 44% van deze kinderen deze klachten nog steeds. De ernst en duur van de buikpijn bij presentatie bleken de prognose niet te beïnvloeden.
Vooralsnog heeft men niet kunnen aantonen dat er een causale relatie bestaat tussen psychische problemen en functionele buikpijn. Mogelijk ligt aan beide hetzelfde mechanisme ten grondslag. Gezien het chronische karakter van de buikpijn, de potentiële rol van de psychische problematiek van ouders en het gebrek aan bewezen effectieve interventies, lijkt de huisarts als bekende van het gezin de aangewezen persoon om kind en gezin te begeleiden.