18-05-2020 | S.I. : Early Detection In Autism Spectrum Disorder | Uitgave 3/2021 Open Access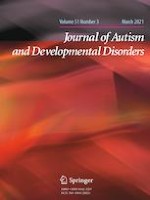 Functional Outcomes of Children Identified Early in the Developmental Period as at Risk for ASD Utilizing the The Norwegian Mother, Father and Child Cohort Study (MoBa)
Tijdschrift:
Auteurs:

Nina Stenberg, Synnve Schjølberg, Frederick Shic, Fred Volkmar, Anne-Siri Øyen, Michaeline Bresnahan, Britt Kveim Svendsen, Stephen von Tetzchner, Nina Torheim Thronæs, Suzanne Macari, Domenic V. Cicchetti, Katarzyna Chawarska, Pål Suren, Roald A. Øien
Belangrijke opmerkingen
Nina Stenberg and Synnve Schjølberg share the first authorship of the present manuscript.
Domenic V. Cicchetti deceased before the completion of the present manuscript were publication.
Publisher's Note
Springer Nature remains neutral with regard to jurisdictional claims in published maps and institutional affiliations.
Abstract
Early identification of autism spectrum disorder (ASD) is regarded as crucial for swift access to early intervention and, subsequently, better outcomes later in life. However, current instruments miss large proportions of children who later go on to be diagnosed with ASD, raising a question of what these instruments measure. The present study utilized data from the Norwegian Mother, Father, and Child Cohort Study and the Autism Birth Cohort study to explore the subsequent developmental and diagnostic characteristics of children raising developmental concern on the six-critical discriminative item criterion of the M-CHAT (DFA6) at 18 months of age (N = 834). The DFA6 identified 28.8% of children diagnosed with ASD (N = 163), but 4.4% with language disorder (N = 188) and 81.3% with intellectual disability (N = 32) without ASD. Scoring in the «at-risk» range was associated with lower IQ, impaired functional language, and greater severity of autism symptoms whether children had ASD or not.