01-10-2011 | Original Paper | Uitgave 10/2011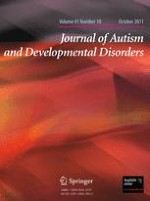 Functional Assessment and Behavioural Intervention for Eating Difficulties in Children with Autism: A study Conducted in the Natural Environment Using Parents and ABA Tutors as Therapists
Tijdschrift:
Auteurs:

Catherine M. Gale, Svein Eikeseth, Eric Rudrud
Belangrijke opmerkingen
This study is based on a Thesis Submitted by the first author to the Graduate Faculty of St. Cloud State University in Partial Fulfilment of the Requirements for the Degree Master of Science, December 2008. We thank Dr. Kim Schulze for her helpful comments. We also thank the children and their families for participating in the study, and the therapy teams for implementing the procedure. These data were presented at the Association for Behaviour Analysis 31st annual convention, Chicago, USA.
Abstract
Two functional assessments (interview and direct observation) were used with three children with autism to identify the functions maintaining mealtime behaviour including acceptance, mouth clean, refusal, and other disruptive behaviours such as crying and pushing the spoon. Based on results of the functional assessments it was hypothesized that appropriate and disruptive mealtime behaviour was maintained by different contingencies. A non-concurrent multiple baseline design across participants was utilized to validate the effectiveness of the intervention. Intervention for all participants included presentation of food on a spoon for 30 s unless acceptance occurred. Acceptance resulted in putative reinforcement. The meal ended after 20 presentations. For all participants, acceptance and mouth cleans increased while disruptive behaviour decreased, and effects were maintained at follow-up.