15-09-2017 | ORIGINAL PAPER | Uitgave 2/2018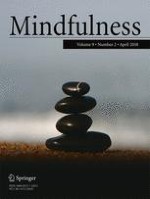 Forgive and Let Go: Effect of Self-Compassion on Post-Event Processing in Social Anxiety
Tijdschrift:
Auteurs:

Rebecca A. Blackie, Nancy L. Kocovski
Abstract
Post-event processing refers to negative and repetitive thinking following socially anxious situations and has been posited as a maintaining factor in social anxiety. One strategy for reducing post-event processing may be through self-compassion, which was the primary purpose of the present study. An additional aim was to examine the effect of self-compassion on willingness to engage in future social scenarios. Socially anxious undergraduates (
N
= 98) provided an impromptu speech and were randomly assigned to a self-compassion, rumination, or control condition. Participants completed measures of post-event processing and willingness to engage in social situations the following day. As expected, self-compassion immediately following a speech led to less post-event processing the next day, as well as greater willingness to engage in future social situations. There was also support for a mediation model illustrating the mechanisms through which self-compassion exerted its effects on these two outcomes. Taken together, these findings demonstrate the utility of self-compassion on reducing the negative and repetitive thinking that serves to maintain social anxiety and increasing willingness to partake in future social events.