01-12-2011 | Research | Uitgave 1/2011 Open Access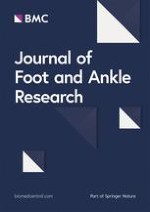 Foot kinematics in patients with two patterns of pathological plantar hyperkeratosis
Tijdschrift:
Auteurs:

Andrew H Findlow, Christopher J Nester, Peter Bowker
Belangrijke opmerkingen
Electronic supplementary material
The online version of this article (doi:
10.​1186/​1757-1146-4-7
) contains supplementary material, which is available to authorized users.
Christopher J Nester and Peter Bowker contributed equally to this work.
Competing interests
There are no financial competing interests (political, personal, religious, ideological, academic, intellectual, commercial or any other) to declare in relation to this manuscript
Authors' contributions
AHF conceived, designed and carried out the kinematic studies; performed the statistical analysis and drafted the manuscript.
CJN helped in the design of the kinematic studies and to draft the manuscript.
PB helped in the design of the kinematic studies.
All authors have read and approved the final manuscript.
Abstract
Background
The Root paradigm of foot function continues to underpin the majority of clinical foot biomechanics practice and foot orthotic therapy. There are great number of assumptions in this popular paradigm, most of which have not been thoroughly tested. One component supposes that patterns of plantar pressure and associated hyperkeratosis lesions should be associated with distinct rearfoot, mid foot, first metatarsal and hallux kinematic patterns. Our aim was to investigate the extent to which this was true.
Methods
Twenty-seven subjects with planter pathological hyperkeratosis were recruited into one of two groups. Group 1 displayed pathological plantar hyperkeratosis only under metatarsal heads 2, 3 and 4 (n = 14). Group 2 displayed pathological plantar hyperkeratosis only under the 1st and 5th metatarsal heads (n = 13). Foot kinematics were measured using reflective markers on the leg, heel, midfoot, first metatarsal and hallux.
Results
The kinematic data failed to identify distinct differences between these two groups of subjects, however there were several subtle (generally <3°) differences in kinematic data between these groups. Group 1 displayed a less everted heel, a less abducted heel and a more plantarflexed heel compared to group 2, which is contrary to the Root paradigm.
Conclusions
There was some evidence of small differences between planter pathological hyperkeratosis groups. Nevertheless, there was too much similarity between the kinematic data displayed in each group to classify them as distinct foot types as the current clinical paradigm proposes.