01-10-2013 | Original Article | Uitgave 5/2013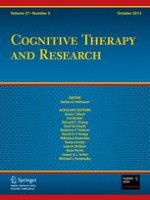 'Folk Theories' About the Causes of Insomnia
Tijdschrift:
Auteurs:

Allison G. Harvey, Adriane Soehner, Tania Lombrozo, Lynda Bélanger, Jamie Rifkin, Charles M. Morin
Abstract
The present study investigates 'folk theories' about the causes of insomnia. Participants with insomnia (
n
= 69) completed a qualitative and quantitative assessment of their folk theories. The qualitative assessment was to speak aloud for 1 min in response to: 'What do you think causes your insomnia?'. The quantitative assessment involved completing the 'Causal Attributions of My Insomnia Questionnaire' (CAM-I), developed for this study. The three most common folk theories for both the causes of one's own insomnia as well as insomnia in others were 'emotions', 'thinking patterns' and 'sleep-related emotions'. Interventions targeting these factors were also perceived as most likely to be viable treatments. Seventy-five percent of the folk theories of insomnia investigated with the CAM-I were rated as more likely to be alleviated by a psychological versus a biological treatment. The results are consistent with research highlighting that folk theories are generally coherent and inform a range of judgments. Future research should focus on congruence of 'folk theories' between treatment providers and patients, and the role of folk theories in treatment choice, engagement, compliance and outcome.