01-09-2020 | Wetenschappelijk artikel | bijlage 2/2020 Open Access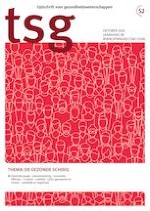 FLASH: vmbo-leerlingen over het creëren van een gezonde schoolgemeenschap
Tijdschrift:
Auteurs:

Carry Renders, Bonnie van Dongen, Inge de Vries, Ingrid Steenhuis, Monique Ridder
Belangrijke opmerkingen
Het onderzoek is gefinancierd door ZonMw (projectnummer 50–53105–98-033).
Samenvatting
Als jongeren in de adolescentie een gezonde leefstijl ontwikkelen, vergroot dit de kans dat ze deze leefstijl op latere leeftijd behouden. Daarmee wordt het risico op chronische welvaartsziekten verkleind. In het FLASH-project (Fit Lifestyle at School and at Home) wordt het proces van het creëren van een gezonde schoolgemeenschap en het ontwikkelen van de daarvoor benodigde
community capacity
ondersteund en onderzocht. Met een foto-elicitatiemethode is bij vmbo-leerlingen van vier scholen onderzocht welke opvattingen zij hebben over hun motivatie, invloed, ideeën en mogelijkheden om gezond eet- en beweeggedrag te stimuleren in een gezonde schoolgemeenschap. Uit zeven focusgroepgesprekken blijkt dat leerlingen goed kunnen benoemen welke factoren hun keuzen beïnvloeden en daar activiteiten aan kunnen verbinden. Ze ervaren echter weinig eigenaarschap, vinden het moeilijk om invloed uit te oefenen en leggen de verantwoordelijkheid voor de gezonde schoolgemeenschap bij de schoolleiding. Betrokkenheid van ouders bij de gezonde schoolgemeenschap is nodig vanwege hun belangrijke invloed op het eet- en beweeggedrag van leerlingen. Leerlingen tonen interesse om op groeps- of schoolniveau een actieve rol te spelen bij het ontwikkelen en uitvoeren van gezondheidsbevorderende activiteiten. Om leerlingen deze rol te geven zijn goede begeleiding, facilitering en inbedding in het curriculum wenselijk.