19-11-2019 | Original Article | Uitgave 12/2019 Open Access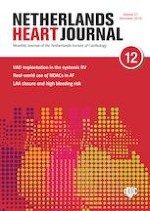 First report of a comparative patient-oriented perspective on the use of non-vitamin-K oral anticoagulants or vitamin-K antagonists in atrial fibrillation: patients' experiences, side-effects and practical problems leading to non-adherence
Tijdschrift:
Auteurs:

N. Bennaghmouch, A. J. W. M. de Veer, C. Zivelonghi, L. van Dijk, J. M. ten Berg
Belangrijke opmerkingen
Electronic supplementary material
The original online version of this article was revised: In order to address concerns raised by the purported holders of intellectual property interests in the Morisky Medication Adherence Scale ("MMAS"), Appendices 1–3 that include the Morisky Medication Adherence Scale‑8 Item questionnaire should be removed from the article. As a result, these appendices were removed and the remaining appendices were renumbered.
Abstract
Background
Non-vitamin‑K oral anticoagulants (NOACs) are recommended as the first-choice therapy for stroke prevention in patients with non-valvular atrial fibrillation (AF). However, the lack of monitoring may impact patients' adherence, and non-adherence to medication is a potential hazard to safe and efficacious use. This is the first report with a 'comparative patient-oriented perspective' regarding the use of anticoagulant medication in the NOACs era. Our aim was to compare patients' self-reported practical problems, adverse events and non-adherence to anticoagulation therapy.
Methods
A survey was conducted among patients with AF on either NOACs or vitamin‑K antagonists (VKAs). The outcomes were self-reported non-adherence to anticoagulant medication, and patients' experiences, adverse events and practical problems correlated with the intake of the drug itself.
Results
A total of 765 patients filled out the questionnaire, of which 389 (50.9%) were on VKAs and 376 (49.1%) on NOACs. Age (70.6 ± 8.8 vs 70.3 ± 9.1 years) and male gender (70.4% vs 64.6%) were similar in the two groups. A significantly higher proportion of VKA users than NOAC users reported having frequent (16.2% vs 3.7%,
p
 > 0.001) or occasional (4.1% vs 1.3%,
p
 > 0.001) practical issues with medication intake. Self-reported non-adherence was significantly higher (24.4% vs 18.1%,
p
 = 0.03) among VKA users. The incidence of self-reported adverse events was similar.
Conclusion
Patient experiences support the current guideline recommendations for NOACs as the first-choice therapy: NOAC therapy resulted in a higher practical feasibility and better adherence when compared with VKA therapy, with a similar incidence of adverse events in both groups.