01-01-2015 | Original Article-E-Learning | Uitgave 1/2015 Open Access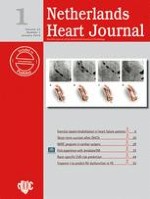 "First experience with JenaValve™: a single-centre cohort"
Tijdschrift:
Auteurs:

V. J. Nijenhuis, M. J. Swaans, V. Michiels, T. de Kroon, R. H. Heijmen, J. M. ten Berg
Belangrijke opmerkingen
All the above mentioned authors contributed equally to the writing of this document and approved the manuscript.
The questions can be answered after the article has been published in print. You have to log in to:
www.​cvoi.​nl
.
Abstract
Aims
Since the introduction of transcatheter aortic valve implantation (TAVI), newer generation and novel devices such as the retrievable JenaValve™ have been developed. We evaluated the procedural and 6-month results of our first experience with implantation of the JenaValve™.
Methods and results
From June 2012 to December 2013, 24 consecutive patients (mean age 80 ± 7 years, 42 % male) underwent an elective transapical TAVI with the JenaValve™. Device success was 88 %. The mortality rate was 4 % at 30 days and 31 % at 6 months. TAVI reduced the mean transvalvular gradient (44.2 ± 11.1 mmHg vs. 12.3 ± 4.3 mmHg,
p
 < 0.001) and increased the mean aortic valve area (0.8 3 ± 0.23 to 1.70 ± 0.44 cm
2
). A mild paravalvular leakage (PVL) occurred in 4 patients (18 %) and a moderate PVL in 1 patient (4 %). Mean New York Heart Association Functional Class improved from 2.9 ± 0.5 to 2.0 ± 0.8 at 30 days.
Conclusion
TAVI using the JenaValve™ prosthesis seems adequate and safe in this first experience cohort.