14-11-2015 | Original Article | Uitgave 2/2016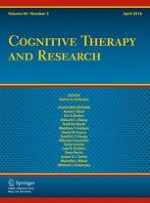 Feeling Without Thinking? Anger Provocation Task Predicts Impaired Cognitive Performance in Bipolar Disorder but not Major Depression or Healthy Adults
Tijdschrift:
Auteurs:

Sunny J. Dutra, Greg J. Siegle, Elizabeth J. Reeves, Iris B. Mauss, June Gruber
Abstract
Elevated anger and impairments in executive functioning are prominent features of bipolar disorder (BD). Given that anger has been found to interfere with some aspects of cognition in healthy individuals, it is possible that heightened anger could compromise cognitive processing even more substantially among individuals with BD. Despite the important clinical and psychosocial implications of such an effect, the precise consequences of anger for cognition in BD are not well understood. To address this, the present study employed a validated anger provocation task and examined its impact on performance of an arithmetic task, assessing both accuracy (number of correct responses) and task engagement (number of responses made) among adults with remitted bipolar I disorder (BD;
n
= 27), healthy non-psychiatric controls (CTL;
n
= 29), and a clinical control group of adults with remitted depression (MDD;
n
= 29). Results revealed that individuals with BD uniquely declined in the number of responses made across the task. In addition, self-reported anger was predictive of reduced task performance among individuals with BD. These results suggest that elevated anger may add to existing executive impairments in BD, compromising these individuals' ability to remain engaged in cognitively demanding tasks in the context of anger.