01-12-2019 | Review | Uitgave 1/2019 Open Access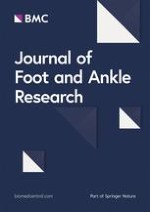 Feasibility of designing, manufacturing and delivering 3D printed ankle-foot orthoses: a systematic review
Tijdschrift:
Auteurs:

Elizabeth Wojciechowski, Angela Y. Chang, Daniel Balassone, Jacqueline Ford, Tegan L. Cheng, David Little, Manoj P. Menezes, Sean Hogan, Joshua Burns
Belangrijke opmerkingen
Electronic supplementary material
Abstract
Background
Ankle-foot orthoses (AFO) are prescribed to manage difficulty walking due to foot drop, bony foot deformities and poor balance. Traditional AFOs are handmade using thermoplastic vacuum forming which provides limited design options, is labour-intensive and associated with long wait times. 3D printing has the potential to transform AFO production and health service delivery. The aim of this systematic review was to determine the feasibility of designing, manufacturing and delivering customised 3D printed AFOs by evaluating the biomechanical outcomes, mechanical properties and fit of 3D printed compared to traditionally manufactured AFOs.
Method
Electronic databases were searched from January 1985 to June 2018 according to terms related to 3D printing and AFOs. Studies of any design from healthy or pathological populations of any age were eligible for inclusion. Studies must have investigated the effect of customised 3D printed AFOs using any 3D printing technique on outcomes related to walking ability, biomechanical function, mechanical properties, patient comfort, pain and disability. Any other orthotic type or AFOs without a 3D printed calf and foot section were excluded. The quality of evidence was assessed using the GRADE process.
Results
Eleven studies met the eligibility criteria evaluating 3D printed AFOs in healthy adults, and adults and children with unilateral foot drop from a variety of conditions. 3D printing was used to replicate traditional AFOs and develop novel designs to optimise the stiffness properties or reduce the weight and improve the ease of use of the AFO. 3D printed custom AFOs were found to be comparable to traditional custom AFOs and prefabricated AFOs in terms of temporal-spatial parameters. The mechanical stiffness and energy dissipation of 3D printed AFOs were found to be similar to prefabricated carbon-fibre AFOs. However, the sample sizes were small (
n
 = 1 to 8) and study quality was generally low.
Conclusion
The biomechanical effects and mechanical properties of 3D printed AFOs were comparable to traditionally manufactured AFOs. Developing novel AFO designs using 3D printing has many potential benefits including stiffness and weight optimisation to improve biomechanical function and comfort.