Gepubliceerd in: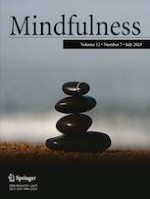 17-05-2021 | ORIGINAL PAPER
Feasibility of a Brief Online Mindfulness and Compassion-Based Intervention to Promote Mental Health Among University Students During the COVID-19 Pandemic
Gepubliceerd in: Mindfulness | Uitgave 7/2021
Log in om toegang te krijgen
Abstract
Objectives
The COVID-19 pandemic constitutes a global mental health challenge that has disrupted the lives of millions of people, with a considerable effect on university students. The aim of this study was to assess the feasibility of a brief online Mindfulness and Compassion-based Intervention to promote mental health among first year university students during COVID-19 home confinement.
Methods
Participants (
n
=66) were first-year psychology students from a university in Spain with no prior meditation experience. Intervention lasted for 16 days and was designed ad-hoc. Using a pre–post within-subjects design, feasibility was assessed in five domains (acceptability, satisfaction, implementation, practicality, and limited efficacy testing). Participants completed both baseline and post-intervention assessments of perceived stress, anxiety, and self-compassion.
Results
The intervention showed to be feasible in all domains evaluated. It was implemented as planned with constrained resources, and limited efficacy testing showed promising results. After the intervention, stress and anxiety levels decreased significantly (
p
<0.001, Hedges's g=0.5146;
p
<0.001, Hedges's g=0.6068, respectively) whereas self-compassion levels were augmented significantly (
p
<0.001, Hedges's g=0.6968).
Conclusions
Our findings suggest that a brief online mindfulness and compassion intervention may be a feasible way of promoting mental health among university students during COVID-19 lockdown. Further studies are required to address the limitations of the present study. We conclude that online interventions may constitute a promising pathway to buffer the mental health burden derived from the COVID-19 pandemic.