01-04-2017 | ORIGINAL PAPER | Uitgave 6/2017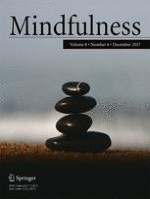 Feasibility, Acceptability, and Preliminary Effectiveness of a 4-Week Mindfulness-Based Cognitive Therapy Protocol for Hospital Employees
Tijdschrift:
Auteurs:

Christina M. Luberto, Rachel S. Wasson, Kristen M. Kraemer, Richard W. Sears, Carly Hueber, Sian Cotton
Abstract
Hospital employees may experience occupational stress and burnout, which negatively impact quality of life and job performance. Evidence-based interventions implemented within the hospital setting are needed to promote employees' well-being. We offered a 4-week mindfulness-based cognitive therapy (MBCT) group program for hospital employees and used a mixed-methods practice-based research approach to explore feasibility, acceptability, and effects on stress and burnout. Participants were 65 hospital employees (
M
age
= 44.06; 85% white) who participated between September 2015 and January 2016. Participants completed validated measures of stress and burnout before and after the program and answered open-ended satisfaction questions after the program. Groups consistently enrolled at least ten participants, but attendance rates declined across sessions (76% at session 2 vs. 54% at session 4) due primarily to work-related scheduling conflicts. The program content was acceptable as evidenced by high perceived value (
M
= 9.18 out of 10), homework compliance (51% practicing at least three times/week), and qualitative requests for program expansion. There were large, statistically significant decreases in stress (Δ
M
= 2.1,
p
< .001,
d
= 0.85) and medium decreases in burnout (Δ
M
= 0.46,
p
= .01,
d
= 0.57), which were supported by qualitative themes of improved self-regulation and mindfulness skills, stress reduction, emotional well-being, and improved work productivity and patient care skills. Findings suggest that 4-week MBCT is acceptable and useful for hospital employees, though research is needed to identify alternate delivery methods or strategies to enhance session attendance.