01-02-2009 | Original Paper | Uitgave 1/2009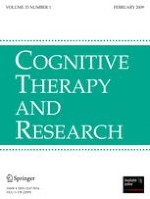 Fear of Blushing: No Overestimation of Negative Anticipated Interpersonal Effects, But a High-Subjective Probability of Blushing
Tijdschrift:
Auteurs:

Corine Dijk, Peter J. de Jong
Abstract
To explain blushing phobics' fearful preoccupation with blushing, this study investigated the anticipated consequences of blushing when considering the interpersonal influences of displaying a blush. Using a vignette study approach, participants (
N
= 48, mean age 20.47, and SD 4.44) with variable levels of fear of blushing were instructed to imagine that they did or did not blush in several situations, and were asked to indicate their expectations of an observer's judgment. Irrespective of their fear of blushing, participants generally attributed negative effects to their blush in these situations. This finding sustains the idea that people dislike blushing due to the anticipated influence of the blush on other's judgments about the self, but does not support the idea that fear of blushing is fueled by an overestimation of these negative effects of blushing. Meanwhile, high-fearfuls did report a relatively high-subjective probability of displaying a blush in these situations. Expecting to blush in situations in which people generally anticipate that blushing elicits a negative observer's judgment, may well contribute to blushing fearfuls' preoccupation with blushing.