08-08-2016 | Uitgave 2/2017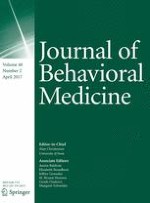 Fatalism and hypertension prevalence, awareness, treatment and control in US Hispanics/Latinos: results from HCHS/SOL Sociocultural Ancillary Study
Tijdschrift:
Auteurs:

Angela P. Gutierrez, Jessica L. McCurley, Scott C. Roesch, Patricia Gonzalez, Sheila F. Castañeda, Frank J. Penedo, Linda C. Gallo
Abstract
Compared with non-Hispanic whites, US Hispanics/Latinos display similar hypertension prevalence, but lower awareness, treatment, and control. Sociocultural factors may affect these patterns. Fatalism, the belief that health is predetermined by fate, relates to poorer adoption of risk reducing health behaviors. We examined the association of fatalism with hypertension prevalence, awareness, treatment, and control among 5313 Hispanics/Latinos, ages 18–74, who were enrolled from four US communities in the Hispanic Community Health Study/Study of Latinos Sociocultural Ancillary Study. After accounting for socioeconomic status and acculturation in logistic regression analyses, higher fatalism was associated with increased odds of hypertension (
OR
1.14, 95 % CI 1.02, 1.28). This association was non-significant when diabetes and other health-related covariates were statistically adjusted. Fatalism was not associated with hypertension awareness, treatment, or control. Findings suggest that the association of fatalism with hypertension may be due largely to its association with SES, acculturation, or related health conditions.