18-05-2017 | Original Paper | Uitgave 10/2017 Open Access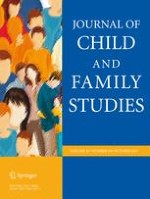 Family Resources and Effects on Child Behavior Problem Interventions: A Cumulative Risk Approach
Tijdschrift:
Auteurs:

Truls Tømmerås, John Kjøbli
Introduction
In this study, we examined two evidence-based interventions differing in intensity (i.e., dosage and scope): the high-intensity PMTO Parent Group (hereafter called PMTO) and the low-intensity PMTO short form Brief Parent Training (BPT; when discussed together hereafter, these are called PMTO interventions). We focused on exposure to environments that were characterized by a lack of family social and economic resources in which we assessed the quantity of family resources, i.e., cumulative risk. The primary question raised was whether cumulative risk moderated the treatment effects of the PMTO interventions. Thus we elaborated on the conditions under which quantitative aspects of family resources exacerbate or ameliorate health care inequalities in (1) parent training vs. regular care and (2) a two-case comparison of the low-intensity BPT intervention and the high-intensity PMTO intervention.
Method
Results
The post treatment effects (T2) for the pooled sample of PMTO interventions are displayed in Fig.
1
. The results showed that the children in the PMTO group from families with one additional cumulative risk generally experienced more benefit from treatment; in T2, behavior problems were reduced by an average of 16% of a standard deviation for each accumulated risk (
ß
 = −0.16,
p
 < 0.01; results were standardized on
Y
only). Conversely, for the regular care group, scoring higher on cumulative risk was significantly associated with lower treatment benefits; this group displayed increased levels of problem behavior in T2 (
ß
 = 0.14,
p
 =  < 0.001). This implies that one additional cumulative risk entailed an increase of 14% of a standard deviation in children's behavior problems in T2. In Fig.
2
, the pooled PMTO group results were not significantly replicated at T3 (
ß
 = −0.11,
p
 = 0.06); however, the coefficient had a considerable size in a similar direction as in T2. For the regular care group, the T2 results were replicated at T3, (
ß
 = 0.104,
p
 < 0.01). Overall, the model fit was within an acceptable range for the fit indexes in all the estimated models (Hu and Bentler
1999
); see table notes. The factor loadings from the parcels in all the SEM measurement models were >0.50; see Figs.
1
and
2
. Moreover, for the Fig.
1
results, we computed the simple slopes and calculated the regions of significance; see Fig.
3
(Preacher et al.
2006
). Differences between the groups were significant for cumulative risk scores above 0.9, meaning that group differences between those who received parent training and those who received regular care were significant for families with one or more risks.
×
Next, we examined whether there were sample-specific differences in the associations between cumulative risk and changes in behavior problems and whether the treatment effects differed for the families with cumulative risks according to treatment intensity. The path coefficients revealed such differences; see Table
4
. The PMTO intervention seemed to be particularly effective for children from families with cumulative risks at both T2 (
ß
 = −0.33,
p
 =  < 0.001) and T3 (
ß
 = −0.30,
p
 =  < 0.001). The low-intensity BPT intervention results did not reveal any significant changes in the treatment effects for the families with cumulative risk. In both samples, the children who received regular care experienced significant increases in behavior problems at all time points; see Table
4
. We computed the region of significance for the path T1 → T2 in the PMTO sample. We found that group difference between the PMTO group and comparison group was significant for cumulative risk scores of 1.7 and higher (Fig.
4
; Preacher et al.
2006
).
Table 4
Autoregressive multi-group SEM analysis displaying separate path coefficients for the BPT and the PMTO samples
Parameter

BPT

PMTO

SE

SE

Model 1 a: ECBI T2

ECBI T1

0.69***

0.05

0.69***

0.07

Treatment

−0.22

0.16

0.26

0.24

Cumulative risk

0.12**

0.04

0.19**

0.07

Treat * CR

0.08 ns

0.07

−0.33***

0.09

Model2 b: ECBI T3

ECBI T1

0.72***

0.05

0.68***

0.07

Treatment

−0.29

0.16

−0.03

0.25

Cumulative Risk

0.08

0.04

0.18*

0.08

Treat * CR

0.00

0.07

−0.30**

0.10
Additionally, we performed several sensitivity tests to gauge the robustness of our conclusions. First, we examined whether there were non-linear patterns in the cumulative risk associations with changes in behavior problems. We tested both a cubic parameterization of cumulative risk and threshold effects for families with between 2 and 5 cumulative risks. No threshold or non-linear patterns were significantly different from 0 (results available upon request). Moreover, we tested whether cumulative risk had unequal effects according to the child's gender and age. Both variables were entered into the analysis as covariates and into a three-way interaction term with treatment and cumulative risk (results available upon request). No significant effects of gender or age emerged. Furthermore, we tested the nine cumulative risk factors singularly in independent-additive models to test for unique predictive validity. We found that no significant results emerged from these analyses. Finally, 35% of our control group cases received no treatment. We suspected that these children and families biased our estimates, and we ran additional analyses without these 63 families. The results were similar to those of the original models in terms of both the coefficient sizes and significance levels, and the full sample was thus included in our final analysis.
×
Discussion
In this study, we extended the literature on health care inequality in behavior problem interventions by examining the relationships between family cumulative risk and treatment outcomes in evidence-based parent training and regular care. We also examined cumulative risk associations in a case comparison between low-intensity and high-intensity PMTO. First, we found that exposure to cumulative risk differentially moderated the treatment effects of PMTO interventions and regular care, as reflected by the opposite social gradients of the changes in the children's behavior problems. The children who received PMTO interventions and were exposed to one or more cumulative risks experienced compensatory effects, meaning that the children from families with low amounts of resources experienced greater reductions in their behavior problems than the children from high-resource families. Conversely, the regular care group exposed to equal levels of risk experienced more behavior problems over time, indicating that the children from low-resource families had poorer treatment outcomes with regular care than the children from high-resource families. Second, we found that the families with cumulative risk benefitted differently according to the intensity of the PMTO treatments; the children who were exposed to cumulative risks experienced vast improvement with high-intensity PMTO. Thus, cumulative risk produced social gradients in treatment effects according to both the treatment conditions and the treatment intensity.
Conversely, the compensatory effects of PMTO interventions for low-resource families indicate that other beneficial mechanisms were operating within these structured treatment conditions. It might be that the children from low-resource families were more exposed to disrupted parenting practices and that systematic parent training was more adapted to their pre-intervention skills and family climate. Moreover, separate analysis of our preventive BPT and high-risk PMTO samples revealed that the compensatory effects were more prominent under the latter treatment condition. In the BPT sample, the families with both low and high cumulative risk experienced positive changes in their children, whereas in the more intensive PMTO treatment group, the families with high cumulative risk experienced a vast improvement. The reduction in their children's behavior problem levels had the effect size of approximately 30% of a standard deviation change per level increase in cumulative risk, which underpins this argument. It seems that providing more intensive treatment to the more troubled families exaggerates the compensatory effect mechanisms. Thus, there is probably interplay between compensatory mechanisms, such as parent's pre-intervention parenting skills, the etiology of child behavior problems, and readiness for change, that produces favorable outcomes for the families with cumulative risk in the PMTO treatment. However, more research is needed to reveal the mediational relationships behind these compensatory patterns.
Acknowledgements
Asgeir R. Olseth, Bjørn Arild Kristiansen, Elisabeth Askeland, Henrik Dae Zachrisson, John Kjøbli, Kristian Heggebø, Silje Hukkelberg, Terje Ogden, Terje Christiansen, Torkild Hovde Lyngstad, and all you in the Department of research and the Department of child program development at the Norwegian center for child behavior development.
Authors' Contributions
T.T.: wrote the manuscript and performed the data analyses. J.K.: designed the study, administered the data collection, and commented on the manuscript.
Compliance with Ethical Standards
Conflict of Interest
The authors declare that they have no competing interests.
Ethical Approval
All procedures performed in this study were in accordance with the ethical standards of an ethical review board; The Norwegian National Committee for Research Ethics, Region South; The Norwegian Social Science Data Services; and with the 1964 Helsinki declaration and its later amendments.
Informed Consent
Informed consent was obtained from all individual participants included in the study.
This article is distributed under the terms of the Creative Commons Attribution 4.0 International License (
http://​creativecommons.​org/​licenses/​by/​4.​0/​
), which permits unrestricted use, distribution, and reproduction in any medium, provided you give appropriate credit to the original author(s) and the source, provide a link to the Creative Commons license, and indicate if changes were made.