01-11-2013 | Original Paper | Uitgave 8/2013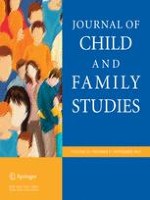 Family Relationships, Self-esteem, and Self-efficacy Among Language Brokering Mexican American Emerging Adults
Tijdschrift:
Auteur:

Robert S. Weisskirch
Abstract
Children of immigrants often translate for parents, a process called language brokering. For youth, language brokering may require navigating meaning in two languages and the relationships among the adults involved. In this study, we investigate frequency of language brokering, family obligation, parental alienation, and parenting processes as related to experiencing language brokering as a burden and as building of self-efficacy. We further investigate how frequency of language brokering and experiencing language brokering as burdensome or as self-efficacious relate to overall self-esteem and self-efficacy. In this study, 75 Mexican American emerging adults (F = 47, M = 26, 2 did not state sex;
M
age
= 20.82 years) completed a questionnaire about their current experience language brokering, their perceptions of parenting, acculturation, and individual well-being. Findings indicate that less parental support predicted language brokering burden, and increased frequency of language brokering predicted language brokering self-efficacy. Greater language brokering burden predicted overall self-esteem and general self-efficacy.