22-05-2019 | Original Paper | Uitgave 10/2019 Open Access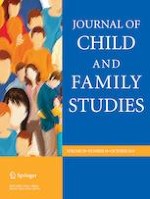 Family Functioning and Not Family Structure Predicts Adolescents' Reasoning and Math Skills
Tijdschrift:
Auteurs:

Yi-Ching Lin, Princess-Melissa Washington-Nortey, Oliver W. Hill, Zewelanji N. Serpell
Belangrijke opmerkingen
Publisher's note:
Springer Nature remains neutral with regard to jurisdictional claims in published maps and institutional affiliations.
Abstract
Objectives
A large body of research exists on families and their impact on children's developmental outcomes. Fewer studies examine family processes within different family structures and their impact on adolescents. This study extends prior work by evaluating associations between family structure (two biological parents, single-parent—mother only, and blended families with a step parent), family functioning (communication, cohesion and flexibility) and adolescents' logic and reasoning skills and math performance.
Methods
A convenience sample of 269 African American adolescents was recruited from a university-based summer enrichment program. The sample was mostly female (63%), with a mean age of 16.34 years. Data were derived from the baseline assessment during which participants completed the Family Adaptability and Cohesion Evaluation Scales (FACES IV), a computer-administered test of cognitive skills, and a paper-based math performance test.
Results
Families with different structures varied in their family functioning (Wilks' ʌ = 0.942, F
(6, 496)
 = 2.486,
p
 = 0.022,
η
2
 = 0.835). Families differed on the dimensions of cohesion (F
(2, 250)
 = 5.80,
p
 = 0.003,
η
2
 = 0.044), flexibility (F
(2, 250)
 = 5.48,
p
 = 0.005,
η
2
 = 0.042) and communication (F
(2, 250)
 = 5.80,
p
 = 0.003,
η
2
 = 0.047). Different dimensions of family functioning significantly predicted both logic and reasoning skills (F
(7, 244)
 = 2.14,
p
 = 0.040, R
2
 = 0.06) and math outcomes (F
(7, 142)
 = 3.16,
p
 = 0.004, R
2
 = 0.14).
Conclusions
Families with different household structures differ in their functioning, including in their levels of cohesion, flexibility and communication. Family functioning is more important than family structure in predicting African American adolescents' reasoning skills and math performance.