04-06-2016 | Original Paper | Uitgave 9/2016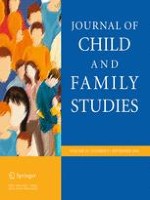 Family Cohesion and Adaptation in Pediatric Chronic Conditions: The Missing Link of the Family's Condition Management
Tijdschrift:
Auteurs:

Teresa Paula Gameiro Pompeu Mendes, Carla Alexandra Mesquita Crespo, Joan Kessner Austin
Abstract
The quality of family functioning has been considered an important predictor of adaptation in children with chronic conditions and their parents. Previous research suggests that beyond general family functioning, the specific experience of the family's condition management is paramount for understanding family members' adaptation. This study's first goal was to compare family functioning and parents' and children's adaptation outcomes across four chronic conditions: asthma, diabetes, epilepsy, and obesity. Secondly, we explored the mediating role of family life difficulties and parental mutuality, as two potential paths through which family cohesion is linked to family members' adaptation. A total of 263 parents of children (3–19 years old) with asthma (
n
= 77), obesity (
n
= 79), epilepsy (
n
= 52) and diabetes (
n
= 55) completed self-report measures of family cohesion, family life difficulty, parental mutuality, anxiety and depressive symptoms, and their children's health-related quality of life (HrQoL). The results showed that families of children with diabetes, obesity, and epilepsy were at higher risk of experiencing family difficulties and children's deteriorated HrQoL when compared to families of children with asthma. With regard to the links among study variables, although family cohesion had both a direct and indirect relationship with parental depressive symptoms, its links with parental anxiety symptoms and children's HrQoL were only indirect, through family life difficulty. These associations were consistent across the four clinical groups. These findings emphasize the relevance of family-centered interventions aimed at promoting family cohesion, parents' mutuality, and effective coping with the demands of pediatric chronic conditions.