08-11-2017 | Original Article | Uitgave 6/2017 Open Access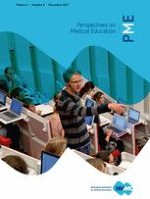 Failure to flow: An exploration of learning and teaching in busy, multi-patient environments using an interpretive description method
Tijdschrift:
Auteurs:

Teresa M. Chan, Kenneth Van Dewark, Jonathan Sherbino, Alan Schwartz, Geoff Norman, Matthew Lineberry
Abstract
Introduction
As patient volumes continue to increase, more attention must be paid to skills that foster efficiency without sacrificing patient safety. The emergency department is a fertile ground for examining leadership and management skills, especially those that concern prioritization in multi-patient environments. We sought to understand the needs of emergency physicians (EPs) and emergency medicine junior trainees with regards to teaching and learning about how best to handle busy, multi-patient environments.
Method
A cognitive task analysis was undertaken, using a qualitative approach to elicit knowledge of EPs and residents about handling busy emergency department situations. Ten experienced EPs and 10 junior emergency medicine residents were interviewed about their experiences in busy emergency departments. Transcripts of the interviews were analyzed inductively and iteratively by two independent coders using an interpretive description technique.
Results
EP teachers and junior residents differed in their perceptions of what makes an emergency department busy. Moreover, they focused on different aspects of patient care that contributed to their busyness: EP teachers tended to focus on volume of patients, junior residents tended to focus on the complexity of certain cases. The most important barrier to effective teaching and learning of managerial skills was thought to be the lack of faculty development in this skill set.
Conclusions
This study presents qualitative data that helps us elucidate how patient volumes affect our learning environments, and how clinical teachers and residents operate within these environments.