01-08-2011 | Original Article | Uitgave 7-8/2011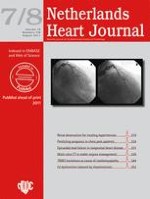 Failure of epicardial pacing leads in congenital heart disease: not uncommon and difficult to predict
Tijdschrift:
Auteurs:

M. C. Post, W. Budts, A. Van de Bruaene, R. Willems, B. Meyns, F. Rega, M. Gewillig
Abstract
Aims
We evaluate the incidence of epicardial lead failure and try to identify risk factors in patients with congenital heart disease.
Methods
All patients with a congenital heart defect and an epicardial pacing system, implanted within a timeframe of 25 years, were included in this study. Patients' medical records and lead data were reviewed. Lead failure was defined as the primary endpoint.
Results
In total 198 active epicardial leads (atrial 40, ventricular 158) were implanted in 93 patients (median age at implantation 4.4 years (range 0–58.6)). During a total follow-up of 1235 lead-years, 29 lead failures (14.6%, 4 atrial, 25 ventricular) were documented in 22 patients (23.7%). Lead failure occurred at a median time period of 4.8 years (range 1.2–24.1) after implantation. Five-year freedom of lead failure was 88%. The only independent predictor for lead failure was the age at implantation (HR 0.44; 95%CI 0.20–0.97,
p
 = 0.04), other characteristics failed to predict lead failure. Sudden cardiac death occurred in four patients (4.3%), in one a lead failure was documented.
Conclusion
A high incidence of epicardial lead failures is found in patients with congenital heart disease. Unfortunately, it is difficult to predict this potentially life-threatening complication.