03-10-2019 | Uitgave 3/2020 Open Access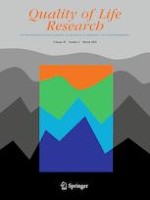 Factors contributing to the ceiling effect of the EQ-5D-5L: an analysis of patients with prostate cancer judged "no-problems"
Tijdschrift:
Auteurs:

Hideki Murasawa, Takayuki Sugiyama, Yuki Matsuoka, Takashi Okabe, Yoshiaki Wakumoto, Nobumichi Tanaka, Mikio Sugimoto, Masafumi Oyama, Kiyohide Fujimoto, Shigeo Horie, Masaru Funagoshi, Ichiro Arakawa, Shinichi Noto, Kojiro Shimozuma
Belangrijke opmerkingen
Publisher's Note
Springer Nature remains neutral with regard to jurisdictional claims in published maps and institutional affiliations.
Abstract
Purpose
The goal of the present study was to determine factors related to a ceiling effect (CE) on the EQ-5D-5L among Japanese patients with prostate cancer (PC).
Methods
An existent cross-sectional observational study dataset was used. Patients were ≥ 20 years of age and diagnosed with PC. For CE determinants on the EQ-5D-5L, we excluded possible "full-health" patients flagged by the EQ-VAS (score = 100) and/or FACT-P (score = 156) instruments. We then divided them into binary variables: A CE group (EQ-5D-5L score = 1) and others (< 1). The associations between CE, sociodemographic and medical characteristics, and FACT-P subscale scores were examined using a multivariate LASSO selection followed by a binomial logistic regression analysis performed to calculate odds ratios (ORs) and 95% confidence intervals (CIs).
Results
A total of 362 patients were analyzed. The LASSO selection variables, including all obtained variables, were as follows: age, palliative treatment, FACT-P physical well-being, and PC subscale score. Statistically significant variables predicting CE were palliative treatment (OR 0.23; 95% CI 0.09–0.60), physical well-being (OR 1.54; 95% CI 1.34–1.76), and PC subscale (OR 1.08; 95% CI 1.03–1.14).
Conclusions
This study revealed that palliative treatment and two FACT-P physical well-being and PC subscale scores were positively related to CE on the EQ-5D-5L. To our knowledge, this is the first study to examine predictors of CE on the EQ-5D-5L. The present results may be helpful for facilitating the consideration of "bolt-on" studies from the standpoint of PC patients.