01-04-2017 | Original Article | Uitgave 2/2017 Open Access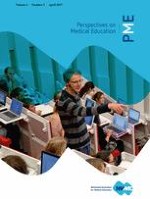 Facilitating admissions of diverse students: A six-point, evidence-informed framework for pipeline and program development
Tijdschrift:
Auteurs:

Meredith E. Young, Aliki Thomas, Lara Varpio, Saleem I. Razack, Mark D. Hanson, Steve Slade, Katharine L. Dayem, David J. McKnight
What this paper adds
Increasing focus has been placed on the diversity of the future physician workforce, and role of admissions in shaping that workforce. This paper provides a framework for organizing pipeline and program development with a focus on maintaining and expanding the diversity of medical students. Each component of the framework is paired with a case study of changes intended to support diversity, ranging from establishing new Offices to subtle changes in websites. This paper reports on an iterative and supportive collaboration between research, data collection, and knowledge translation with the goal of identifying diversity targets, and supporting the implementation of evidence-informed initiatives to support an inclusive admissions process.
Introduction
The need for social accountability and for diversification within the medical student population is widely acknowledged by the academic medicine community [
1
–
3
]. Empirical research has reported the underrepresentation of certain population groups among medical school matriculants relative to regional and national metrics across several international contexts [
4
–
6
]. While the specific underrepresented population varies by regional, national, and international context, individuals from lower socioeconomic backgrounds are frequently underrepresented [
5
–
9
]. Several national-level policies call upon educational institutions to attend more carefully to issues of diversity in health professions education [
10
,
11
]. Scholars suggest that expanding the diversity of health care professionals can support culturally competent care and facilitate access to care for traditionally underserved populations (e. g. [
12
]).
These calls to action resonate across the health professions education community; they are particularly relevant to medical school admissions committees whose decisions determine the composition of the future physician workforce. Indeed, greater diversity in the physician workforce must begin with medical school admissions practices [
10
]. The development, implementation, and evaluation of medical school admissions practices must address the needs and concerns of the many stakeholders involved in admissions policies – at both local and national levels. These practices should also be grounded in effective processes for moving diversity-related evidence into admission practices and policies.
In this paper, we present the diversity-related admissions program developments designed, implemented, and evaluated at two Canadian medical schools participating in our research collaboration [
9
]. These developments were grounded in empirical evidence, responded to local diversity-related contextual considerations, and were informed by the knowledge translation process and literature. The purpose of this report is to consolidate the successful diversity-related efforts into a six-point framework for pipeline and program development aimed at improving the diversity of medical school matriculant populations. We first discuss the knowledge translation framework that informed our efforts and the diversity-related research and quality assurance findings that grounded design and initial evaluation of our programs. We then describe each point of the developed six-point framework in relation to a case study to illustrate the suggested program component, along with outcome data where available.
Conceptual framework for generating and implementing diversity evidence: knowledge translation
Knowledge translation provides the framework for moving admissions-relevant diversity-related evidence into practice. The Canadian Institute of Health Research defines knowledge translation as 'a dynamic and iterative process that includes synthesis, dissemination, exchange and ethically sound application of knowledge. This process takes place within a complex system of interactions between researchers and knowledge users that may vary in intensity, complexity and level of engagement depending on the nature of the research and the findings as well as the needs of the particular knowledge user' [
13
].
The two major knowledge translation concepts relevant to our research are 1) the creation (generation) of knowledge, reflected in the creation of diversity-related metrics and data for matriculants and 2) the application of evidence, namely the application of the findings from monitoring locally relevant diversity data to admissions processes. Knowledge translation emphasizes aligning evidence with the needs of knowledge users in a specific local context (i. e. admissions and undergraduate medicine programs in our participating schools). Knowledge translation is predicated on the notion that, in order for evidence or new knowledge to inform or improve practice, it must be relevant, timely and useful for the intended knowledge users [
14
,
15
]. We draw from the 'knowledge-to-action' cycle, which provides a holistic view of the knowledge translation phenomenon by emphasizing the fluid boundaries between 'knowledge creation' and 'action' [
15
,
16
], to guide our reflections on how we can move diversity research evidence into admissions best practices [
14
]. The knowledge-to-action framework privileges social interaction amongst relevant stakeholders and adaptation of research evidence that takes local context and culture into account [
14
–
16
].
As we progressed in our work and examined how diversity-related data could be used to inform admissions practices, we considered the seven major action stages of the knowledge-to-action framework, i. e. identifying a problem in the practice/knowledge gap; identifying and selecting the knowledge to be implemented to address the gap; adapting or customizing the knowledge to the local context; evaluating the determinants of the knowledge use; selecting, tailoring, and implementing interventions to address the knowledge/practice gap; monitoring the knowledge use in practice; evaluating the outcomes or impact of using the new knowledge; and determining strategies for ensuring that the new knowledge is sustained [
14
]. In particular, we discussed the nature of the available diversity evidence, the need to move this evidence into practice, and how this evidence could be customized to each local context. We consulted and engaged stakeholders at local sites to proactively identify potential barriers and facilitators to implementing the knowledge. While the following descriptions of the six-point framework for pipeline and program development focus on the evidence-to-practice-via-customization action stages, we are continuously monitoring these knowledge use efforts. Over the past five years, we have been conducting ongoing evaluations of the outcomes or impacts of using the new knowledge (findings from monitoring diversity-related data) and are determining strategies for ensuring sustainability of these knowledge translation initiatives [
14
].
Diversity and admissions evidence
Multiple efforts aimed at improving the diversity represented in medical schools' applicant and matriculant populations have been undertaken at many institutions. Examples include pipeline programs and targeted recruitment initiatives [
17
], specialized programs with separate selection criteria [
18
], programmatic efforts targeted at supporting particular populations [
19
,
20
], and continued critical analysis of selection practices and institutional contexts [
21
–
23
]. While these initiatives have reported encouraging findings, few studies have been able to report on the efficacy of diversity-related efforts due to the institution-specific nature of programs and the typically small numbers of students and applicants (with the notable exception of some large post baccalaureate programs) [
24
]. This may limit the applicability of traditional best-evidence approaches for pipeline and diversity-related program development and evaluation [
25
]. Specifically, aspects such as generalizability across sites and large enough sample sizes for traditional statistical analyses may be both unattainable and inappropriate in diversity-related initiatives. This is problematic, as the knowledge translation literature and frameworks explicitly highlight the need for local context and culture considerations to shape diversity initiatives appropriately.
As a result of this need, the development and implementation of diversity-oriented programs requires the collection and maintenance of longitudinal diversity-related data. These data, in turn, rely on the dimensions of diversity that an institution deems noteworthy and deserving of tracking. In a previous publication, our team called for a broader conceptualization of diversity [
9
], leading us to develop and encourage the adoption of a nationwide database that reflects locally determined diversity-related metrics while allowing medical educators to compare their local metrics against other aggregate data, be they local, regional, national or international.
Moving knowledge into practice
As an essential component of 'knowledge creation', our team has been tracking surface and deep markers of diversity among medical school matriculants across five medical schools in Canada over the last five years alongside the monitoring of similar diversity metrics in our applicant pools. Our team of collaborators meets monthly to discuss: 1) data collection and analysis [
14
]; 2) pipeline and other diversity-related programs that have been developed and implemented individually at each site; and 3) relevant publications and evidence of the successes and obstacles affecting the diversity of our medical trainee populations.
Methods
Overall design
We conducted a descriptive, exploratory, multiple case study with six cases (units of analysis: individual strategies for diversity program development) [
26
]. These cases exemplify how locally collected and locally relevant diversity data are translated into practice to facilitate diversity-related admissions program development. Data used for this analysis include those collected using a locally developed diversity survey and local quality assurance program evaluation. Analyses include descriptive analyses of demographic data, substantiated by a report of the diversity-related admissions program details.
Data sources
Locally relevant diversity-related data used to support the institution of the initiatives described in each case were drawn from the Health Professions Student Diversity Survey (HPSDS) [
9
], the Health Professions Applicant Diversity Survey (HPADS) [
27
] and/or local quality assurance program evaluation data at the participating institutions (McGill University and the University of Toronto, the two institutions that have been collecting data via the Health Professions Student Diversity Survey for the longest period of time, which facilitates longitudinal tracking of intervention success). Each participating institution used the Health Professions Student Diversity Survey and/or the Health Professions Applicant Diversity Survey within their local context. Data were used internally to support and evaluate most of the initiatives described below. Data relating to medical student diversity, combined across all institutions participating in the Health Professions Student Diversity Survey, can be found elsewhere [
9
].
Framework development
The six-point framework presented in this paper was initially developed based on the collective experience of the team, and iteratively derived and clarified through team meetings, consensus building on the key framework components, and consultations with local stakeholders. The framework was further refined through the close examination of the individual case studies within the research team.
Data analysis
Data analysis was descriptive including reporting frequencies, proportions, and percentages as appropriate.
Results
Each focal point of our framework for diversity-related program development is described, first in abstract terms, and is then illustrated with a case study from one of our participant institutions. Consistent with a key knowledge translation concept (i. e. tailoring knowledge to a particular context facilitates its sustained use), our case study descriptions demonstrate how locally relevant diversity data can translate into the development, sustainability, and evaluation of a diversity-related admissions program [
14
,
28
,
29
]. When the number of participant responses was less than 5, raw numbers were not reported in order to protect the identity of the students or applicants.
Study context
Collecting demographic data among student populations in Canada remains controversial. Consequently, the collection and analysis of demographic and diversity data for medical school applicants, medical students, residents, and practising physicians in Canada have been relatively recent and require voluntary disclosure of diversity information by applicants or registered medical students. Thus, findings such as the discordance between medical classes and the general population with respect to diversity have been a largely newly documented phenomenon in Canada [
7
–
9
].
Framework for developing diversity-related admissions best practices
Discussion
The collaborative collection of longitudinal and multidimensional diversity data and continued research and quality assurance evaluation of program development is essential for medical schools to systematically meet the healthcare needs of the nation's diverse population through ensuring a diverse physician workforce.
Acknowledgements
The authors would like to extend thanks to all of the institutions participating in this initiative.
Funding
Funded in part by a grant from the Canadian Institutes of Health Research, granted to Meredith Young (co-investigator Canadian Institutes of Health Research Operating Grant #115214).
Disclaimer
The views expressed herein are those of the authors and do not necessarily reflect those of the United States of America's Department of Defense or other American federal agencies.
Conflict of interest
M.E. Young, T. Aliki, L. Varpio, S.I. Razack, M.D. Hanson, S. Slade, K.L. Dayem and D.J. McKnight declare that they have no competing interests.
Ethical approval
The data used here have been approved by the Research Review Boards of: McGill University and the University of Toronto. University of Toronto quality improvement/quality assurance projects (i. e. data outside of the scope of the Health Professions Student Diversity Survey [
9
]) did not require ethics review as data collection was obtained within the University of Toronto context with associated conclusions not gained through research (for wider external application).
Open Access
This article is distributed under the terms of the Creative Commons Attribution 4.0 International License (
http://​creativecommons.​org/​licenses/​by/​4.​0/​
), which permits unrestricted use, distribution, and reproduction in any medium, provided you give appropriate credit to the original author(s) and the source, provide a link to the Creative Commons license, and indicate if changes were made.