19-07-2018 | ORIGINAL PAPER | Uitgave 3/2019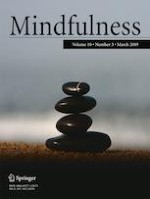 Facets of Mindfulness Predict Depressive and Anxiety Symptom Improvement Above CBT Skills
Tijdschrift:
Auteurs:

Christian A. Webb, Courtney Beard, Marie Forgeard, Thröstur Björgvinsson
Belangrijke opmerkingen
Electronic supplementary material
Abstract
Mindfulness training is increasingly being incorporated into traditional cognitive behavioral therapy (CBT) approaches. Although the acquisition and use of both CBT and mindfulness skills have been independently linked with positive therapeutic outcomes, the additional therapeutic benefit provided by mindfulness skills above and beyond traditional CBT skills (e.g., behavioral activation, cognitive reappraisal) is unclear. The present study tested the incremental predictive validity of mindfulness skills above CBT skills in predicting depressive and anxiety symptom improvement within a psychiatric hospital unit incorporating training in both CBT and mindfulness skills. Adult patients (
N
 = 134, mean age = 34.0, 47.8% females, 90.3% White) with depression and anxiety receiving combined psychotherapeutic and pharmacological treatment at a psychiatric hospital completed repeated assessments of CBT skills (Cognitive Behavioral Therapy-Skills Checklist), mindfulness skills (Five Facet Mindfulness Questionnaire), and both depressive (Patient Health Questionnaire-9) and anxiety (Generalized Anxiety Disorder Scale-7) symptoms. We tested whether mindfulness skills and/or CBT skills predicted depressive and anxiety symptom improvement. Higher levels of both mindfulness skills (
r
s = − .15 to − .51) and CBT skills (
r
s = − .12 to − .21) were cross-sectionally associated with lower depressive and anxiety symptoms. However, while controlling for CBT skills, two mindfulness facets (nonreactivity to inner experience and acting with awareness) predicted subsequent depressive (
t
s < − 2.49,
p
s < .014) and anxiety (
t
s < − 2.31,
p
s < .022) symptom improvement, thus demonstrating incremental predictive validity. Findings suggest the potential therapeutic benefits of mindfulness skills training for depressed and anxious patients within the context of short-term, intensive psychiatric treatment.